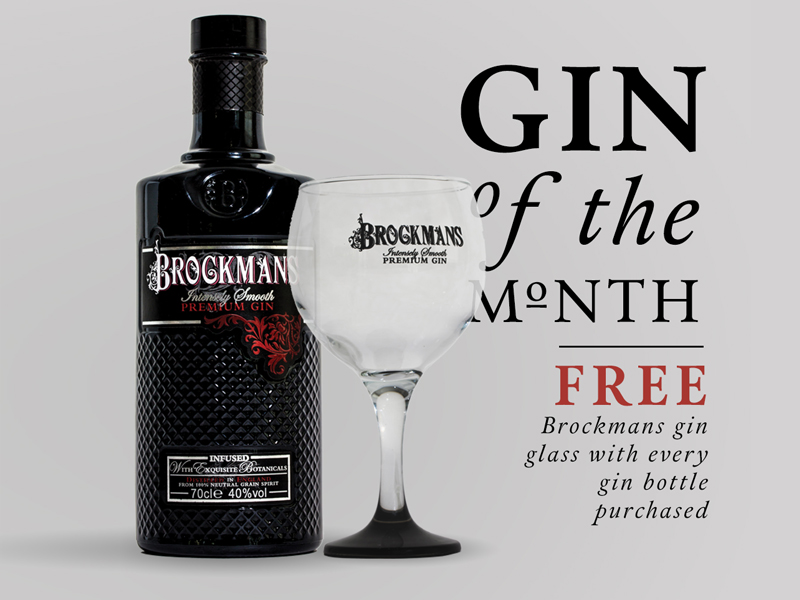 Brockmans Gin
Our Gin of the Month this June is Brockmans; an intensely smooth and refreshingly fruity gin. Brockmans is made following a unique recipe that uses Tuscan juniper, Bulgarian coriander, Valencian orange peel and wild dried blueberries and blackberries. A carefully managed steeping and copper pot distillation method results in the highly distinctive and smooth taste. The traditional juniper notes act as a platform for the aromatic wild berries and the citrus kick to come to life.
For the perfect serve, prepare with a twist of pink grapefruit peel and 2 blueberries then add extra large ice cubes and chilled premium tonic. The sharp acidity of grapefruit and floral notes of blueberry combine beautifully with the unique botanicals in Brockmans. Because of Brockmans distinct fruity taste, it is appealing to non gin drinkers and a great choice for sipping neat.
Throughout June, you can get a free Brockmans branded gin glass with each 70cl bottle of Brockmans that you buy at The Hollies Farm Shops at either Lower Stretton or Little Budworth (whilst stocks last!)
Click here to take a look at the Brockmans website.
Categorised in Farm Shops