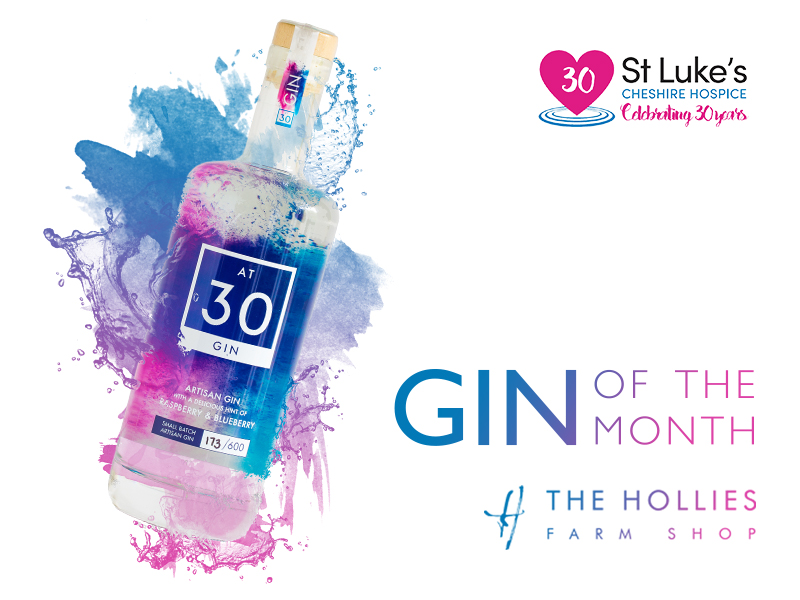 AT30 Gin
We have selected a very special gin for our Gin of the Month this September; AT30 Gin. This is a limited edition celebratory small batch gin created to celebrate 30 years of St Luke's Cheshire Hospice and raise vital funds for the charity.
St Luke's is our local hospice; since 1988 they have been providing specialist, high quality care and support for patients and their families as they face the challenges of life-threatening illness.
Every single service at St Luke's is provided free of charge; they pride themselves on supporting and caring for people when they are at their most vulnerable. Last year St Luke's supported over 1,000 Cheshire locals with a huge range of support from end of life care on their ward to supporting carers, and from helping children cope with grief to helping patients return to work after an illness.
St Luke's is a charity and all their services are given free of charge. They receive limited support from the government but a staggering 84% of their costs are covered by donations. Your support really will make a difference.
AT 30 Gin has been created with the generous support of Rodney Densem Wines in Nantwich, with all profits directed to the Hospice. Expertly distilled, AT30 gin has fabulous, fruity hints of raspberry and blueberry, and each bottle has a unique batch number.
Gin never tasted so good knowing that every sip is making a difference to hospice care.
Volunteers from St Luke's Cheshire Hospice have kindly agreed to be at Little Budworth from 12-4pm on the following dates to tell you all about the gin and offer you a little sample;
– Saturday 8th September
– Sunday 9th September
– Saturday 15th September
– Sunday 16th September
– Saturday 22nd September
– Sunday 23rd September
– Saturday 29th September
– Sunday 30th September
(We suggest you buy your bottle early as it might sell out!)
For more information about St. Luke's Cheshire Hospice, go to https://www.stlukes-hospice.co.uk/
Categorised in Farm Shops, General