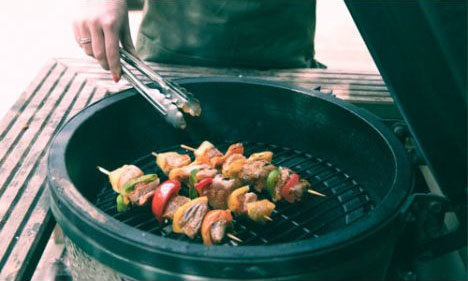 Come rain or shine
Come rain or shine we Brits love a barbeque. Whether we are cooking under glorious sun beams or under an umbrella in the rain, we can't resist the smell of that charcoal burning and meat sizzling. Our butchery departments work hard all year to bring you the freshest and tastiest traceable meats, and create a fabulous array of products on their counter for you to take home.
They have the usual barbeque meats- sausages and burgers. But these are not just any sausages and burgers. There's sticky onion sausages, pork and tomato, Cumberland, Welsh Dragon with chillies and leek, pork with black pudding and apple and The Hollies Cheshire with black pepper and mixed herbs; all made with fully traceable local pork. Why not try the Smokey Texas beef grill, the Welsh beef grill with onion, the Italian Job grill steak with tomato and basil sauce and mozzarella cheese, or our Ultimate Steak Burger with chillies and cracked black pepper?
If that isn't enough, they've got smoked bourbon ribs, Hawaiian pork kebabs, tomahawk steaks, honey and chilli pork, lamb with asparagus and apricots, king beef kebabs, honey and chilli pork rashers, sweet maple and mustard pork steaks, minted lamb chops, crispy shallot chicken, salt and pepper chicken kebabs, and much more to get your taste buds into as you enjoy your summer time barbeques!
Categorised in General