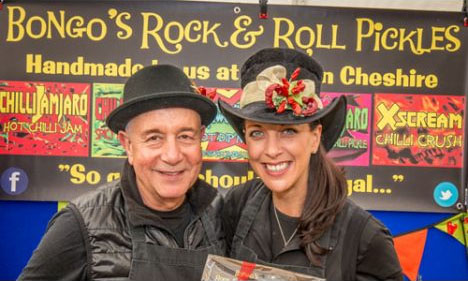 Bongo's Rock and Roll Chilli Pickles
Rock and Roll drummer Manny Elias from Tears for Fears and his wife, actress Deborah Bouchard, have created a whole range of chilli based condiments just down the road from us in Norley. Born in Calcutta, India and growing up eating chillies, Manny, otherwise known as Bongo, has always had a passion for chillies. Bongo had been making 'Chillimanjaro' for over 20 years, taking it on tour with him whilst he was in the band. Their friends and family loved it, and musicians from all around the world would often ask him to bring some along to the studio! This led Deborah to persuade him to go into production with their original recipes in 2014, and we are pleased to stock them in both our Farm Shops at Little Budworth and Lower Stretton.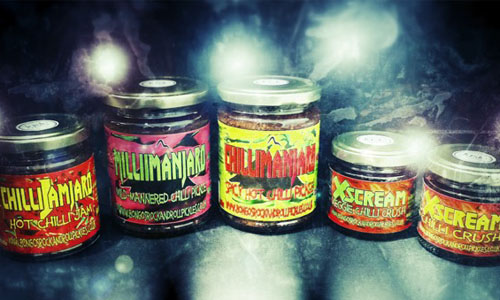 Chillimanjaro is a hot and spicy Indian chilli pickle made with fresh green Indian chillies. It is a perfect accompaniment to cheese and is great as a meat marinade. Another jar in the range is XScream Chilli Crush which is a Chinese and Thai based fiery chilli oil made from red chillies. This can be added to soups to give them a fiery kick, or mixed with mayonnaise for a delicious dip! Then there is Chillijamjaro, a hot and tangy chilli jam. Why not try it baked with a Camembert? Simply delicious!
We are looking forward to welcoming Bongo's Rock and Roll Pickles for tastings in October, so make sure you come along and look out for Deborah's Chilli Hat! They will be at Little Budworth on Saturday the 3rd October and Saturday 17th October and at Lower Stretton on Sunday October 4th. Who is brave enough to try the Hot Firework Jerk Dip'n'Ade?
Categorised in Farm Shops