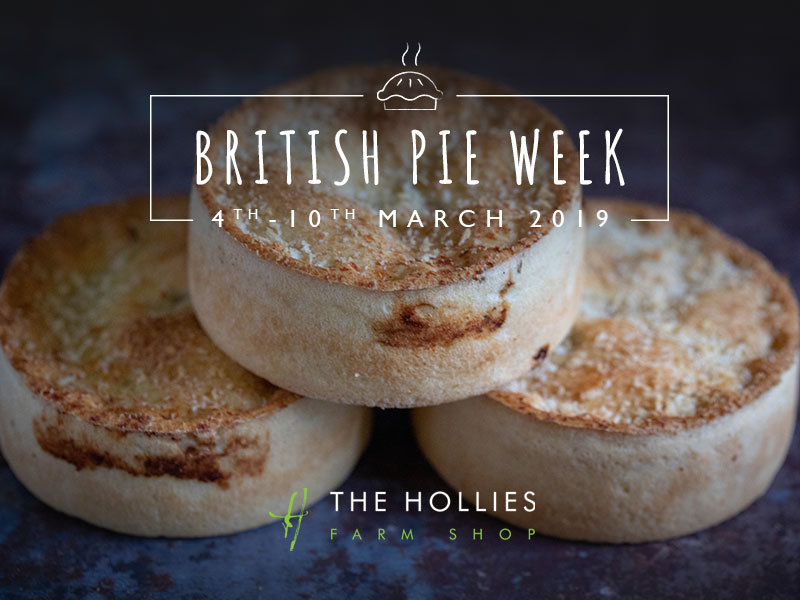 British Pie Week
British Pie week was first started by Jus-Rol in 2007. As a nation of pie lovers, pie week is the perfect week to share the love for pie. Whether you like your filling sweet or savory – we have it all at The Hollies Farm Shops.
Pork pies, steak pies, chicken pies, vegetarian pies and more to choose from in our Delicatessen at Little Budworth and at our Lower Stretton Farm Shop.
Our Deli team at Little Budworth hand craft The Hollies Homemade Pies  using the delicious, tender meat from our Butchery counter combined with our farm fresh ingredients from the farm shop. The  Hollies Homemade pies include Steak and Weetwood Ale, Steak and Onion, Creamy Chicken and extra cheesy Cheese and Onion pie.
Our team on the fish counter at Little Budworth have also recently created a Homemade Fish Pie consisting of fresh salmon, haddock, cod, prawns and smoked haddock in a creamy white sauce with garden peas topped with The Hollies Homemade creamy mashed potato.
Get the family involved to celebrate British Pie Week from the 4th – 10th March and cook a pie together with all our farm fresh products.
Lower Stretton Coffee Shop will be celebrating Pie Week with pie specials using The COOK Kitchen range of pies served with chips, broccoli and gravy.
Categorised in Butchery, Coffee Shops, Delicatessen, Farm Shops, General