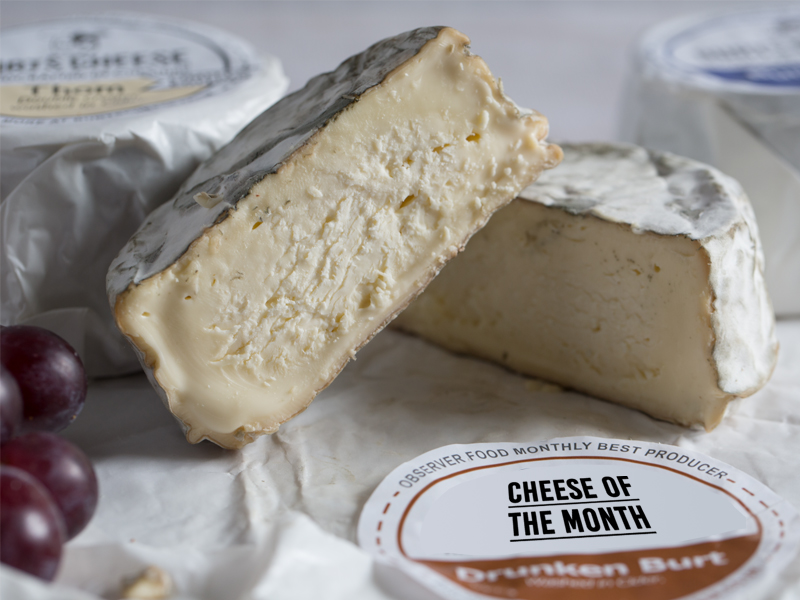 Burt's Cheese; handcrafted in Cheshire
Our Cheese of the Month for April is Burt's Cheese, which is handcrafted in Cheshire.
Burt's Blue Cheese was created in January 2009. Through the care and attention of cheese maker Claire Burt, Burt's Blue became a Gold award winner in the 2010 Nantwich Cheese Awards. Burt's Blue Cheese is a semi-soft blue made in Cheshire, with quality milk sourced from a local dairy for a richer flavour. It is made in a small vat making each cheese a labour of love.
In 2013 Thomas Partridge joined the team, leaving his career as a Chef to pursue his passion for cheese making. Tom has inspired the development of three variations of Burt's Cheese; Drunken Burt, DiVine and the brand new Thom. We have all 4 Burt's Cheese available at The Hollies Farm Shop.
Drunken Burt is Burt's cheese with a difference. Instead of piercing the cheese during ripening, which encourages blue veins to develop, the cheese is washed in Cider. The cheese takes on some of the golden colour of the cider and also some of the flavour characteristics. Sometimes you can pick up a smoky note from the oak barrels.
The DiVine is more like a 'typical washed rind' cheese; it tends to develop to a smoother paste and has a fuller flavour. DiVine has similarities to the Drunken Burt in that the cheese is washed in cider. Once its 'mouldy coat' has developed it is wrapped in vine leaves which hold in more moisture and flavour from the Cider.
New this year is Thom, named after one of their cheese makers. Thom is made with double cream and washed in Gwatkins Cider from Herefordshire where Thomas is from. It has a soft texture enriched by the cream; the flavour is subtle and develops with age.
Categorised in Delicatessen, Farm Shops, General