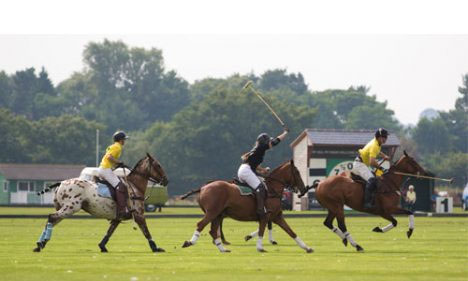 The Cheshire Polo Club
Polo is one of the oldest recorded team sports in known history and is thought to have originated in China and Persia approximately 2500 years ago. Although it is commonly known as "the sport of the Kings", in reality it is open to the wider public and is now played all across the world by both men and women. People are attracted to Polo for its style, excitement and passion and with its dynamic competitive element it can be one of the most exciting games in the world for both the players and the spectators.
Field Polo is played by two teams of four players on horseback divided into attackers and defenders. A game of Polo has periods of play, known as chukkas; each game may have 4, 5 or 6 chukkas and each chukka lasts 7 minutes. The winning team is the one that scores the most goals by hitting the ball through goal posts that are 8 yards apart. What makes polo such a special spectator sport is that you don't have to be familiar with the rules, allowing you to take in the thrill and excitement of one of the fastest team sports in the world.
Next door to The Hollies at Little Budworth are the main Cheshire Polo Club grounds. The present Cheshire Polo Club dates from 1952 and is successor to a number of clubs playing in the North West for over 100 years. Today the club has over 80 playing members, 5 grounds and is famous in the Polo world for its fantastic parties and fun atmosphere. Throughout the season, with games on every weekend in the afternoon from May through to mid September, anybody is welcome to go and watch. Why not take the family and a picnic and make a day of it?
Categorised in General