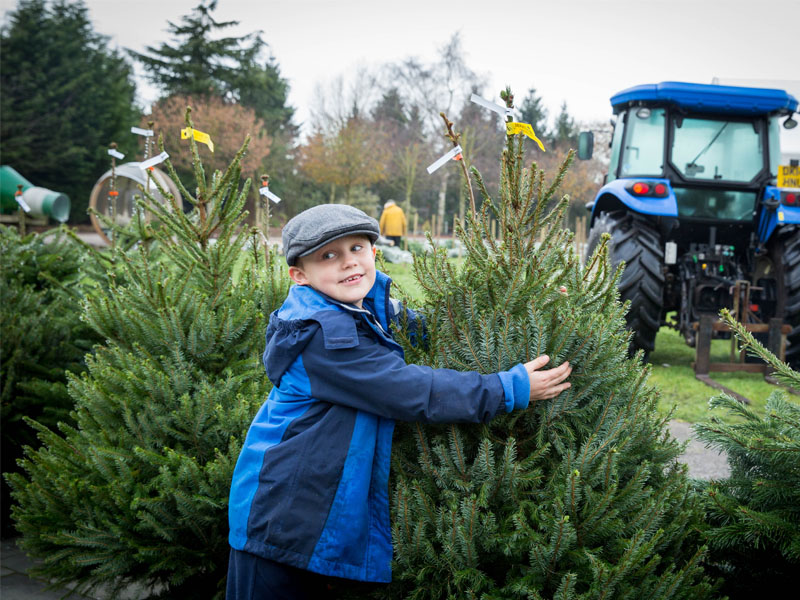 Christmas Trees
Fill your home with the delightful aromas of Christmas by purchasing a real Christmas tree this year from our Little Budworth site. The freshly cut trees have now arrived and they make the ideal centre piece for your Festive celebrations; a few have even been home-grown by The Hollies, planted by Richard up to 10 years ago!  The majority of the trees we have for sale are Nordmann Firs, which are one of the most popular Christmas Trees in this country due to their lovely symmetrical shape with strong branches. We have a range of smaller pot grown trees in varying sizes too including Serbian Spruce, Norway Spruce and Nordmann. (See below for a guide of how to look after your tree)
Come along to The Hollies Farm Shop at Little Budworth where our team are on hand to help you make your choice, offer advice, bag your chosen tree and even help you to the car with it.
In addition to the real Christmas Trees, we have an extensive range of artificial trees available which are displayed in the marquee at the back of the Farm Shop at Little Budworth. These can be brought out year after year and can be easily manipulated to hold your decorations. In various sizes we have a range of Nordmann Firs, Nobilis Firs and the Serbian Spruce, plus a range of Snowy Nobilis Firs and new this year the Frosted Grandis Fir! For a fabulous art deco look, why not try one of the LED Twig Trees which can be used indoors or outdoors?
The Barn is packed full of the "greatest selection of baubles in Cheshire", fabulous decorations and an array of lights to suit many themes and colour schemes to help to make your house even more magical this Christmas time. If you have not visited The Barn yet, make sure it is on your to do list this year! There's jewellery, scarves, hats, home ware, candles, diffusers, chocolates, beauty products, festive foods, gifts, Christmas cards, gift wrap, decorations and much much more.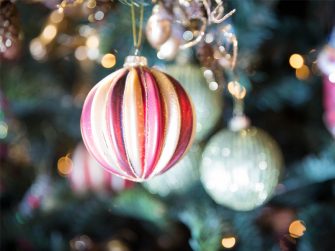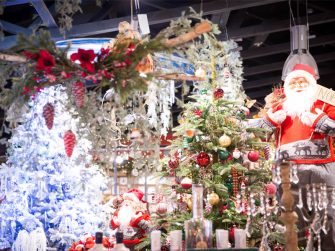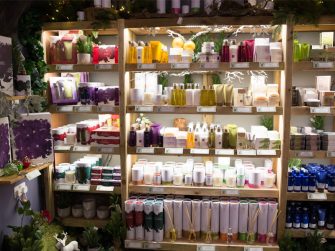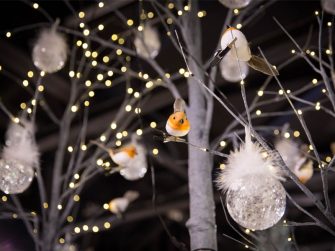 Look out for The Christmas Collection catalogue featuring key products from The Barn to help make yours a Hollies Christmas!
How to look after your real Christmas Tree;
Cut off at least one inch (2.5 cm) from the bottom of the trunk and gently shake the tree to remove any loose needles.
Stand it in a bucket of water and keep it in a cool place such as a garage or shed until ready to take indoors for decorating.
The Hollies recommends putting the tree into a bucket (without holes) and filling with water so that the trunk is immersed.
Use stones or bricks to secure the tree in place. Do not use sand or soil in the bucket as they restrict water from being drawn up.
Stand the tree in the coolest part of the room, ideally next to a window and away from radiators and fires. Water daily.
Decorate your tree with Christmas lights and decorations available in The Barn at The Hollies.
Have a lovely Christmas!
Categorised in Farm Shops, General