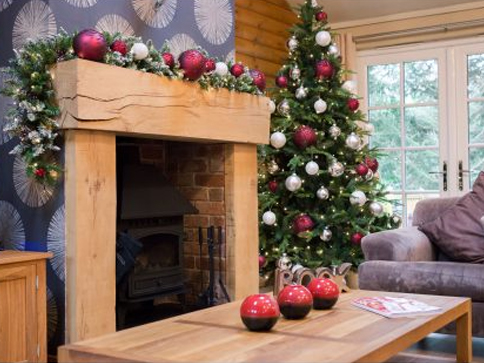 Christmas in a Log Cabin
Can you imagine yourself spending the lead up to Christmas in a log cabin? There really is no better time to stay in the luxury of our 5* gold rated Forest Lodges than in the run up to Christmas! Whether it's a family gathering, sipping mulled wine by the inviting log fire or a group of friends getting together to celebrate with champagne in the hot tub, the Forest Lodges are perfect for any occasion!
From the 1st December the Christmas decorations will be going up in all of the lodges to get you (and us!) into the Christmas spirit, so it feels like you are having Christmas in a log cabin. The lodges create the perfect atmosphere in which to relax with great company. The Farm Shop and Christmas Barn will be brimming with scrumptious festive treats and unique gift ideas. The Butchery in the Farm shop will also be taking Christmas meat orders for your preferred Christmas roast with all the trimmings available as well! With free samples and tasting events by many of our suppliers also being common. You will never need to leave The Hollies to fully indulge yourself in Christmas!
The Spruce, our largest lodge will comfortably sleep six guests in its two superking size master bedrooms and its third bedroom comprising double / twin bed, to ensure that you wake up feeling fully refreshed and ready for the day ahead.  Breakfast in The Coffee Shop would make the perfect start to the day before you head off to do your Christmas shopping. If you're the more adventurous type you could even try out the world famous Manchester Christmas markets, Cuddington is only ten minutes away and has a direct train to Manchester Piccadilly Station which will bring you into the heart of the city.
Lodge bookings can be made on our website which can be found here http://www.theholliesfarmshop.co.uk/log-cabins-luxury-lodges/ – or you can call 01829 760 761 and speak to a member of staff to make a booking over the phone. We really would love for you to stay with us and experience the magic of Christmas in a log cabin and all that The Hollies has to offer!
Categorised in Forest Lodges