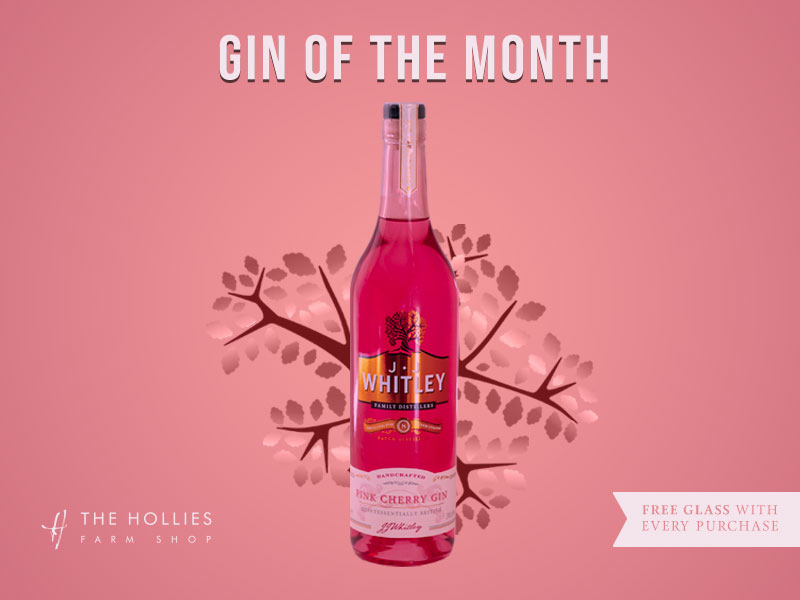 Gin of the Month
A fantastic new addition to the J.J. Whitley family, their Pink Cherry Gin inspired by the British countryside. This Gin is bursting with flavours, with notes of fresh cherries and marzipan but with sour cherry and juniper on the palate. It has a smooth finish with a little lingering spice. A similar taste to a Cherry Bakewell.
For the perfect serve, fill a glass with ice cubes and add J.J. Whitely Cherry Gin. Top this with a plain tonic water or lemonade if you prefer. Garnish with cherries.
Alternatively, use this Gin to make a slightly spicy martini. Simply add ice cubes to a glass, combine the J.J. Whitley Pink Cherry Gin and Vermouth, stir & strain into a chilled cocktail glass. Garnish with some red berries. It is the perfect summer drink to enjoy!
Get a free J.J Whitley glass with every bottle purchased from The Hollies this June.
World Gin Day
On Saturday the 8th of June it is World Gin Day (one of our favorite days in the year). Gin is made from the juniper berry and other different botanicals such as berries, spices, herbs, seeds, roots and fruits. It is a refreshing drink to enjoy in the sunshine.
At The Hollies Farm Shop we have a wide array of different Gins available and mixers also. So why not celebrate and enjoy World Gin Day with us? Visit our restaurant 59 at The Hollies and enjoy our Gin of the Month for just £5. Or pick yourself up a bottle of Gin from either of our Farm Shops.
Make yourself the perfect Gin and Tonic or if you are feeling more adventurous why not try some Gin cocktails?
Make yourself a delicious Elderflower Collins, all you will need is 50ml of gin, 20ml lemon, 10ml sugar syrup, 10ml elderflower cordial and soda to finish. Decorate with a sprig of rosemary to make your cocktail look extra fancy.
Categorised in Coffee Shops, Farm Shops, Forest Lodges, General