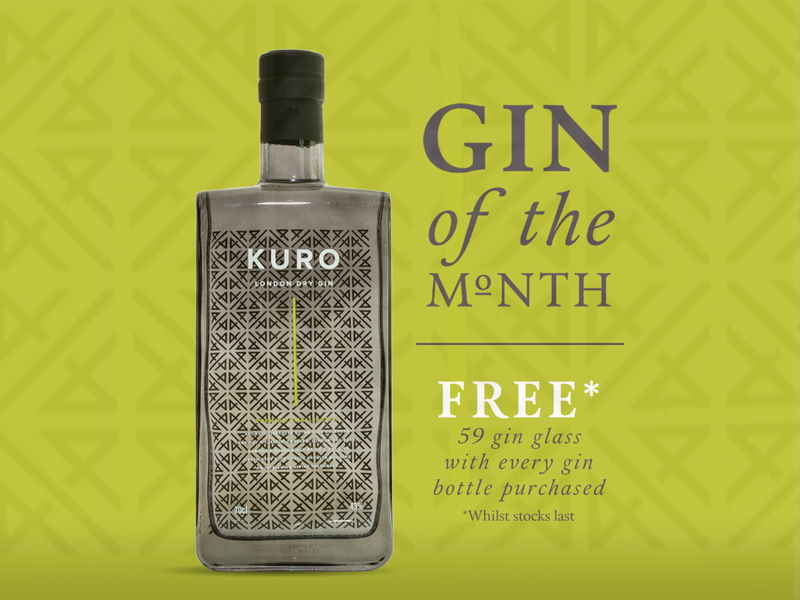 KURO Gin
Our Gin of the Month this September is KURO Gin. Created by Craig Fell and John Thompson, KURO Gin was born out of a skiing trip in the Hakuba Valley region of Japan. Upon their return, they sought to bottle up their epic alpine experience and unleash it in the form of a premium spirit for gin lovers of the UK to enjoy!
Kuro is a Dry London Gin which captures the essence of the Japanese Alps with its unique blend of botanicals including silver birch bark, spruce needles and bamboo activated charcoal. The makers believe that "the thrill of the slopes, beauty of surroundings and overall sensory experience has been contained in each of its 12 botanicals". Kuro is distilled in a 300 litre copper pot still at Langley Distillery which has been distilling since the 1920s.
The spirit has an aromatic nose. Bamboo and silver birch bring a hay like earthiness to the clear spirit, with spruce needles building an intriguing alpine freshness which brings out the citrus notes. The result is a complex gin with a smooth and creamy mouth feel.
For the perfect serve, the makers recommend serving in a balloon glass over ice with Fentimans Aromatic Tonic and a garnish of juniper berries, apple and mint leaves.
During September whilst stocks last receive a free 59 at The Hollies branded gin glass when you purchase a bottle of KURO Gin from The Hollies Farm Shop at either Little Budworth or Lower Stretton.
Try KURO gin for yourself every Saturday in September at Little Budworth.
Categorised in Farm Shops, General