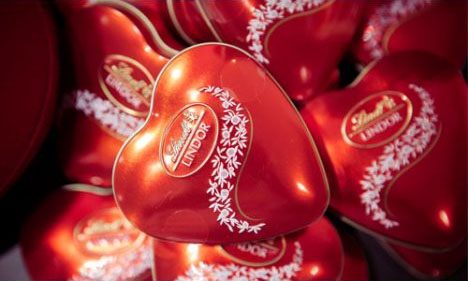 Love is in the air
Love is in the air at The Hollies Farm Shops with an array of fabulous ideas to show someone special how much you love them this Valentine's Day.
The Barn is ready for love with a wide range of cards and gifts to suit every taste. In the Farm Shops there will be fresh bouquets of beautiful flowers, champagne, chocolates and more to spoil your loved one.
We still have tables available for Evening Dining in our Coffee Shop at Little Budworth on the 13th and 14th of February. Join us for £32.95 and enjoy 3 courses made with fresh ingredients from the Farm Shop and Butchery. Tables can be reserved from 7.30pm-9pm both nights, book now by ringing 01829 760884.
Treat your loved one to Valentine Evening Dining at the Concept Cafe at Lower Stretton on the 12th February with tables from 6.30pm. To book a table for their delicious 3 course meal for £29.95  please ring 01925 732706.
For those that would prefer a cosy night in at home, treat yourselves to our Valentines Meal Deal available at Lower Stretton only. Choose either 2 Sirloin steaks (approx 7oz) or 2 Beef Wellingtons and either Dianne or Pepper sauce, with some Hollies Homemade Buttered Carrots, Hollies Homemade Garlic Buttered New Potatoes plus a bottle of wine for just £19.99. Substitute the wine for Prosecco for £21.99. This meal deal offer is available from the 1st -15th of February at Lower Stretton Only.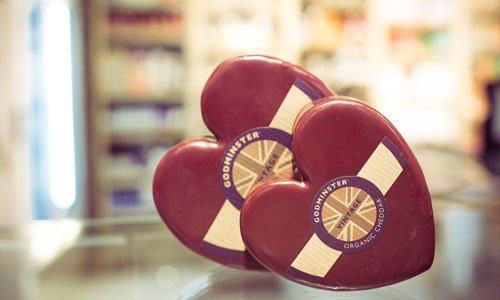 This Valentine's Day, treat your loved one to a Godminster heart shaped cheese, available in 200g and 400g. This vintage cheese is handmade in Somerset from a 70 year old recipe, using traditional methods, and comes wrapped in a distinctive burgundy wax. Godminster Cheddar is a firm pressed medium to strong cheese with an exceptionally creamy, rich, full flavour. Initially mellow with a creamy consistency, Godminster then progresses to a tasty, lingering after bite.
#lovehollies
Categorised in Farm Shops, General