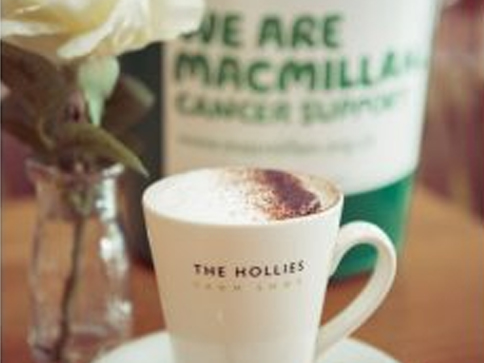 Macmillan coffee morning
On the 26th of September The Hollies Coffee Shop at Little Budworth and The Concept Café at Lower Stretton are proud to announce that we will be taking part in the 'world's largest coffee morning' fundraiser event for Macmillan Cancer Support. Between 8-11.30am the Coffee shop will be providing hot drinks to our customers and encouraging our guests to donate the price of their coffee, tea or hot chocolate, to support the outstanding work done by the Macmillan Cancer Support team.
We encourage everyone to come along, take the weight off your feet in the homely surroundings of our coffee shops, and give generously to this wonderful cause which last year managed to raise a staggering £20million in support for cancer patients across the country! Along with our delicious array of hot beverages, we will also have a prize raffle for our guests, who will have the chance to take home an array lovely gifts including a £50 'love2shop' voucher and a bottle of Forget Rosé Champagne.
Beginning in 1990 the 'world's largest coffee morning' has been a nationally running event since 1991 and in the meantime has raised over £110million for the provision of care for ill patients throughout the country. From its first year, when 2,600 people signed up for the event, up until 2013 when a record 154,000 coffee-drinkers participated, the coffee morning has grown to become one of the greatest charitable success stories of modern times – without question an event we are honoured to associate ourselves with!
All proceeds received from the sales of our coffee, tea, and hot chocolate will go directly to those who need it most, the 2 million people who are living with cancer in the UK today. This terrible and debilitating disease is said to effect one in three people during their lifetime, confirming the importance of the work carried out by Macmillan in caring for and supporting cancer patients. The Macmillan charity relies on donations for 98% of its income, as such we implore all friends of the Coffee Shop and Concept Café to come along on September the 26th and help support the amazing work carried out by Macmillan, all the while relaxing and unwinding in the unique environment of The Hollies.
Categorised in Coffee Shops