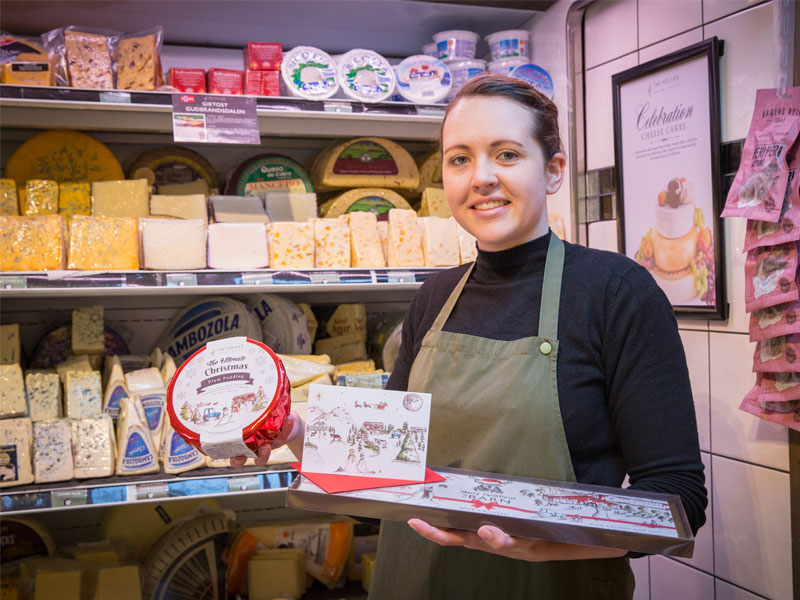 Meet Katy
Katy has been working in our Delicatessen at Little Budworth for 3 years, and we were delighted to recently discover that she has a great talent for drawing. Katy studied Art at GCSE, moving onto A Levels in Textiles, Photography and Film Studies, finally going on to do a Foundation Degree in Fashion Design.
A few months back our Deli Manager Graham needed some signs doing for their range of oils and vinegars in the Deli so asked Katy to have a go at sketching these and they became the images on the advertising poster. Our Graphic designer Dan asked Katie if she could do a few more drawings, including her impression of The Hollies; Ed, one of our Directors, saw these and wanted to see more! Katy sketched a range of drawings, including a timeline of the history of the Hollies, a Christmas scene and one incorporating The Hollies and our hotel, Muckrach Country House Hotel. Some of these drawings include Archie, our Highland Cow and capture Ewan, 4th generation of The Hollies' family, working with Grandad Richard at The Hollies, complete with flat caps!
Look out for Katy's designs; they are now on our new vouchers, The Hollies' Christmas Pudding, a large Hollies' chocolate bar and our very own Hollies Christmas cards. The Hollies will be donating 50p per pack of Hollies' Christmas cards to local hospital Tarporley War Memorial Hospital.
Tarporley War Memorial Hospital has just launched its' fundraising campaign to get to their centenary in 2019. First opened in 1919 as a lasting memorial to those who were killed or injured during service in the First World War, Tarporley Hospital has been caring for and nursing the community back to health since then.
The hospital which is predominantly funded by charitable donations, only receives a small amount (30%) of money from the local NHS authority.
Their campaign is looking at raising awareness for the funding needs of the hospital and asking the communities to support this vital service. The hospital, originally, was funded by local subscription, meaning that once a year collectors from each village would knock on the doors of each house ask them to donate what they could. This money would fund the hospital for the entire year, and those residents could use the hospital free of charge. The hospital is now looking to the local community again for funding.
With the support of local people, groups and business, the hospital can be carried through to its next 100 years.
Their annual carol concert will be held at St Helen's Church, Tarporley, on Friday 9th December. Tickets will be on sale soon…
Categorised in Delicatessen, Farm Shops, General