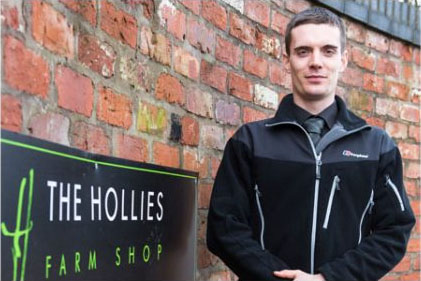 Meet Graham
Meet Graham who joined The Hollies back in early November 2010. Graham initially split his time between the Farm Shop at Little Budworth, assisting with the building of the Coffee Shop, Butchery and Forest Lodges and also selling Christmas Trees when December came. When the Butchery department opened in April 2011, Graham was keen to go in there and have the opportunity to learn a new trade. Having proved himself to be a hard worker, Phil and Ed knew that Graham would thrive learning something new and he was able to gain knowledge of Butchery from our Master Butcher, Andrew Vernon.
At The Hollies we are committed to staff development and progression and we have a number of employees that have gained or are working towards NVQ qualifications whilst they work. Whilst working in the Butchery, Graham completed a Food Hygiene Course, an initial First Aid Course and an NVQ in Customer Service. More recently, Graham has completed a Retail Management Course and a further First Aid Course and is grateful to The Hollies for investing in their staff and furthering their skills.
Alongside learning his new trade, and completing various courses, Graham worked behind the scenes to become familiar with our product and sales management computer system, developing it and re-building it for the various departments both at Little Budworth and Lower Stretton. This system is vital to the running of the shop as it holds all the data for each product. This ensures that, for example, when the Butchery print out a label to go on the meat you select, all the correct information is displayed on the label and that this then scans through the till system correctly. With so many products you can imagine this was not an easy task!
With the Delicatessen opening in April 2013, Graham got the product and sales management system up to date with all the new products and then got the opportunity to develop his own department and put all the skills he had learnt to the test. Since being in the Deli, Graham has helped to push the growth of sales and has been able to travel over the country to source the best quality products to sell. He has introduced some great products into the Deli counter, worked alongside the production kitchen creating the homemade range, and has sourced a fantastic cheese selection with some of the tastiest cheeses from around the world, as well as many local ones. More recently Graham has taken our products to various markets to showcase The Hollies, and is looking to do more of these next Summer too.
Categorised in General