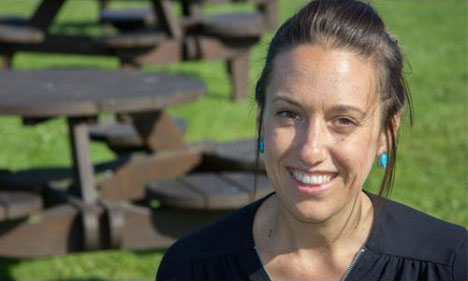 Meet Philippa
Meet Philippa, who joined us just 3 months ago all the way from a wine region called Barossa Valley in Adelaide, Australia. In Australia Philippa was in IT but fancied a brand new challenge, so when she and her partner decided to move over here with their dog, Baloo, she thought it was a perfect chance for a change of career path. Never having worked in hospitality before, but with a passion for coffee and the culture of drinking coffee she decided to complete a Barista course before making the trip over here. This is a skill that has come in very handy now that she works in our Coffee Shop at Little Budworth!
Philippa tells us about how back home they used to do all their shopping at the local farmers markets every week. She loves buying all the fresh produce and being able to support local producers and farmers. She found The Hollies very appealing to work with, as fresh and local produce is what we are passionate about too. Philippa and her partner eat a very healthy diet; they love all the variety of fresh fruit and vegetables at The Hollies, plus all the spices so they can create lots of great tasting recipes. Occasionally though despite eating very healthily, a chocolate brownie manages to sneak its way into the basket!
Philippa is really enjoying her time here so far, as it is so different to anything she has ever done before. She finds it exhilarating meeting new people and loves that every day is so different to the next. She has found all the staff and customers very welcoming and friendly, and is settling in very well to her new role.
In addition, in case any of you were wondering; Philippa doesn't surf, she didn't come over here for the English weather, and if she had to pick between Home and Away or Neighbours, she prefers Home and Away!
Categorised in Coffee Shops