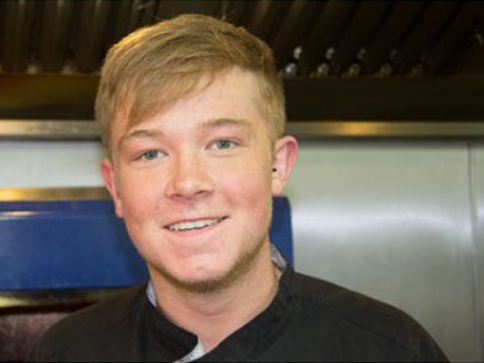 Meet Sidney
We first met Sidney back in December 2011 as a shy 16 year old that had heard about a job vacancy through his Nan who had shopped at The Hollies for many years.  Over the past few years we have watched him grow into a confident and popular young man who is an absolute pleasure to work with.
After finishing school Sidney started working in the Coffee Shop part time as a Kitchen Porter, where his speed, dedication and organisation were recognised straight away. The role of a Kitchen Porter is vital in the workings of a Coffee Shop and by keeping on top of the washing up and cleanliness of all the kitchen areas, Sidney helped to ensure that the Coffee Shop functioned effectively. As well as these key roles, Sidney also assisted the Chefs and learnt how to present cakes and make up salad plates during busy periods, thus helping to speed up food service.
After noticing his flair for being in the kitchen when he was helping the chefs out during these busy periods, he was the natural choice to progress into the kitchen when a position became available for a trainee chef. He has proven himself to be a team player, who is well-liked by his colleagues and someone who thrives off learning new things. His talent in the kitchen was also highlighted when he was shortlisted for the 'Rising Star of the Year' award at the Marketing Cheshire Tourism Awards in 2013.
Sidney likes working in the Coffee Shop, as everyone gets on so well and work great together as a team. He feels lucky that they are able to use any of the great fresh ingredients from the Farm Shop, Butchery and Delicatessen on site to create such tasty dishes. Sidney is always looking to progress and better himself, and has been recently learning a few more dishes that will appear on the specials board in The Hollies Coffee Shop at Little Budworth soon.
Categorised in Coffee Shops