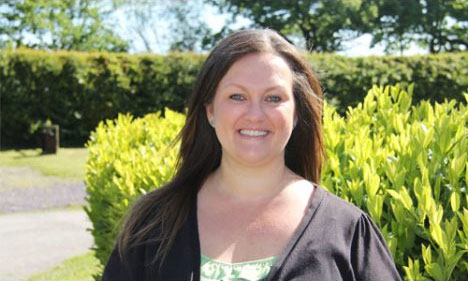 Meet Mrs B
Here at The Hollies Farm Shop we always strive to find the best quality local produce. One of our newest local suppliers is Sam, the entrepreneur behind Mrs B's Queen of Cakes who makes delicious Tray bakes, seven tiered wedding cakes and everything else in-between. Sam has loved cooking and baking since she was in school and always baked for family and friends in her spare time. After getting made redundant 5 years ago Sam decided it was time to put her passion into practice by setting up a cake making business and has not looked back since.
Sam is currently working from home locally in Winsford, but thinks she might need to look for a unit soon as her business keeps growing! Her home based bakery has a 5* health and hygiene rating enabling her to cook all of her cakes in her own kitchen. Upstairs, Sam has a work room where she has all her tools and products to transform a plain cake into a fabulous piece of art. A typical week for Sam consists of baking all day on Monday, leaving them to set over night. On Tuesday its cake and board covering, then the rest of the week is cake decorating- some decorations can take days to complete as they are so intricate! Around that Sam also has to juggle deliveries in the local area with her busy family life- making sure she has the best work-life balance.
Mrs B joined us at Little Budworth for a tasting back in May, where she cut up samples of her cakes for our customers to taste. The feedback was really positive and lots of people chose to take one of her cakes home. Sam supplies us with her 'Afternoon Tea Range' of cakes which are perfect for parties, family gatherings or just to enjoy with a cup of tea. We have Lemon Drizzle, Sticky Ginger, Orange and Basil and a delicious Apple and Cinnamon which even has crumble on the top! In addition to this, Sam also makes Tiffin and Rocky Road for us.
Mrs B's Queen of Cakes range is currently on sale at The Hollies Farm Shop Little Budworth, with fresh deliveries every Thursday. We are hoping to be introducing her to The Hollies at Lower Stretton soon too.
Categorised in Farm Shops