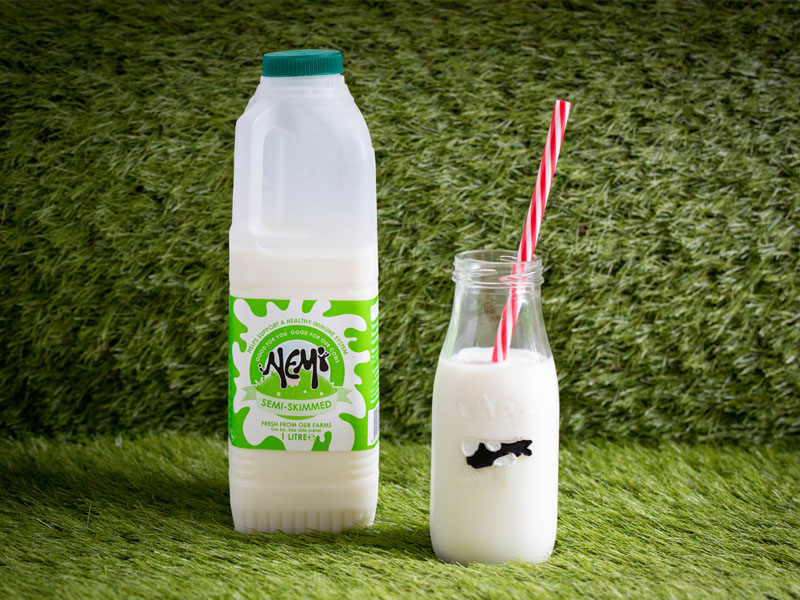 NEMi Milk
Milk contains up to sixteen nutrients that are essential for our health, especially calcium and Vitamin D which work together to help to build and maintain strong bones and teeth.  We are pleased to be supplying NEMi Milk here at The Hollies. It is local, fresh, healthy and sustainable. NEMi stands for Naturally Enriched Milk innovations and it is their vision is to be the local milk, nationally. The more NEMi Milk that is sold, the more British farmers they are able to support. They strive to promote British milk as a high value natural nutrient-rich food which benefits all ages.
"It is so important that we support dairy farmers and ensure that they get a fair price for their labour. NEMi will pay all of their farmers a premium so that they can continue to produce the highest quality milk and create the best environment for their cow's welfare."
NEMi milk is naturally enriched with the antioxidant Selenium, something that up to 90% of the UK population is deficient in. The producers add a natural, traceable safe source of organic yeast Selenium to the cow's diets which optimises the selenium levels to enhance the cow's health and performance. According to NEMi, the human benefits of Selenium can be facilitating a healthy immune system, maintaining a healthy thyroid gland, sustaining male fertility, helping to prevent heart disease and it is also believed to slow down the onset of Alzheimer's Dementia.
And after all that, we best mention that it is absolutely delicious too!
Categorised in Farm Shops, General