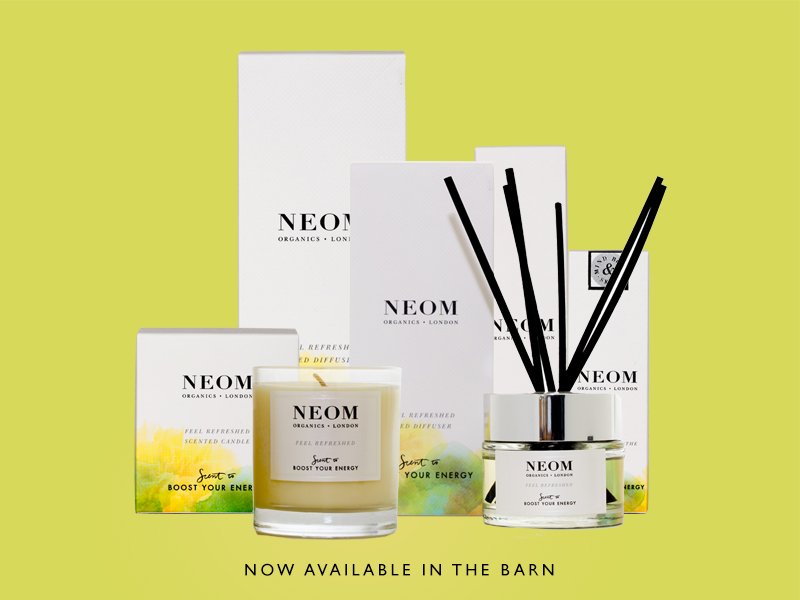 Neom Organics
The Barn at The Hollies Farm Shop excitedly welcomed a brand new supplier this Spring; Neom Organics.
The Neom range of home fragrance, bath and body products have therapeutic benefits to relieve stress, help you to calm and relax, boost your energy or lift your mood. All the products are 100% natural fragrances for the mind & body. They are made in Britain from ethically sourced, sustainable origins, with only natural & organic ingredients. The products contain no petrochemical paraffin or mineral wax, no artificial perfume only pure essential oils and no harsh preservatives.
Nicola, the founder of Neom states, "After spending seven hectic years working 60 hour weeks as an editor for Glamour magazine, I noticed my own wellbeing, and that of my close friends, was being affected by the stress and demands of a modern day busy life…. The worst offenders? Poor sleep, stress, low energy and mood swings. This kick started my own wellbeing journey, I trained as an aromatherapist and nutritionist and from there, together with my business partner, Neom Organics was launched in 2005. I believe there really are small steps you can take to help you feel your best every day. After all you can't look good if you don't feel good."
The Barn has reed diffusers, home mists, candles, hand balms, hand wash, shower oils, bath foam and more in Neom's 'Scent to Sleep' range, 'Scent to Boost Your Energy' range, 'Scent to De-Stress' range and 'Scent to Make you Happy' range.
Categorised in Farm Shops, General