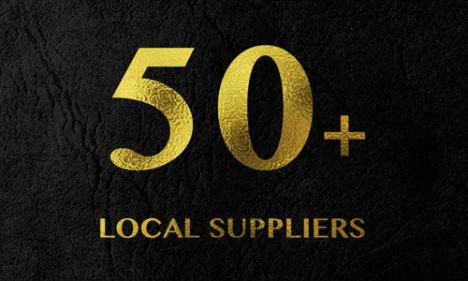 Over 50 Local Suppliers
Within The Hollies Farm Shops we always strive to find the best quality local produce. We are proud to now have over 50 local suppliers helping us to stock some of the best products that Cheshire has to offer.  From vegetables to meat, cakes to preserves, gin to cheese, and cereals to ice cream; we have a whole range of fabulous local Cheshire produce to suit every palette. We believe that the best local food should be tasty, high quality and fully traceable; and it is!
One of these local suppliers is Stanways Bakery Ltd, traditional family bakers who have over 50 years baking experience behind them. The business began back in 1962 in a small shed at the back of the house of the founders; Pete and Denise Stanway. By trade Pete was a joiner, but his wife's love of and skill in baking gave them the idea to set up a business together from their home in Antrobus. The customs of Stanways is synonymous with family traditions, fresh, tasty produce and excellent quality.
The core values and individual recipes have been passed on through the family, with Pete's sister, Denise working for the business. When Pete and Denise Stanway decided to retire in 1982, Pete's sister Denise and her husband John Harrison took over and recruited their daughters Sarah and Lisa too. Back in 2007, John and Denise also hung up their aprons and their nephew Roger, who had always been interested in the bakery and proud of the family connection, acquired the business and moved it to Village Farm in Lower Whitley. Both Sarah and Lisa stayed with Roger for a while which assured the continuity of the family traditions and passed on their first rate skills and experiences to all new team members. They now have a very skilled team who get up early to create and bake their fresh, tasty, quality products on a daily basis using the best ingredients from local and reputable suppliers.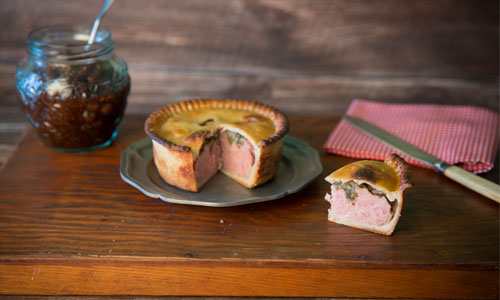 Here at The Hollies Farm Shops, Stanways Traditional Pork Pies are well loved by our customers, as are the Pork and Cranberry Pies and the Pork and Apple Pies. For the sweeter tooth, we also sell their delicious Battenberg. Stanways scrumptious products are on sale at both Little Budworth and Lower Stretton all year round.
Categorised in Farm Shops, General