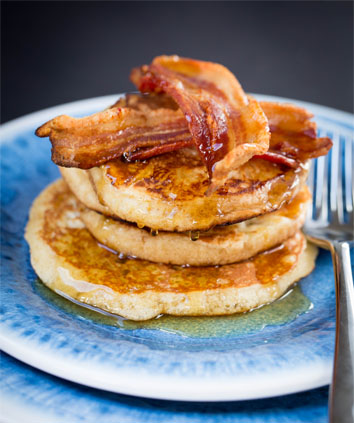 Scotch Pancakes
Recipe created by Shaun Moorcroft
Scotch Pancakes
Ingredients
135g Plain flour
1 tsp baking powder
Pinch of salt
2 tbsp caster sugar
130ml semi skimmed milk
1 large egg lightly whisked
2 tbsp melted salted butter
1 tbsp oil for cooking
Method
Using a sieve, sift the flour, baking powder, caster sugar and salt into a large mixing bowl.
In another bowl, lightly whisk the milk, egg and butter together.
Pour the milk mixture into the flour mixture and whisk until a smooth batter and leave to stand for 5mins or so.
Heat a non-stick frying pan with the oil, once hot add a small ladle of batter mix, depending on the size of your pan you may be able to put 2 or 3 ladles worth in. you should get about 6-8 pancakes from the mixture.
Turn them over after a minute or two or until golden brown on both sides.
Serve with a topping of your choice e.g. fruit and honey, Hollies treacle cured bacon and maple syrup or anything else that takes your fancy.