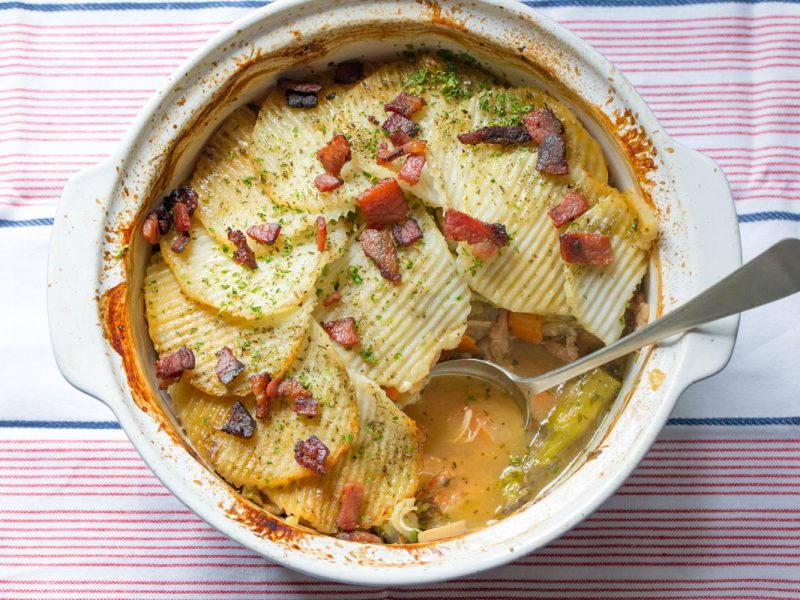 Chicken and Hollies treacle cured Bacon Hotpot
Chicken and Hollies treacle cured Bacon Hotpot
by Chef Shaun Moorcroft
Ingredients
• 4 chicken thighs on the bone skinned
• Fry light
• 1 medium onion roughly chopped
• 4 slices Hollies treacle cured bacon cut into 2.5cm pieces
• 200g closed cup mushrooms
• Small handful parsley roughly chopped
• 450ml chicken stock
• Salt and black pepper
• 2 carrots cut into 1.5cm cubes
• 1tsp dried mixed herbs
• 550g potatoes peeled and thinly sliced
Preparation
1. Preheat oven to 180c or gas 4 Place frying pan over medium heat
2. Spray chicken with fry light and brown in pan for 5 minutes. Transfer to large casserole dish
3. Fry onions and bacon in fry light and stir fry for 3-4 minutes until onion is golden.
4. Stir in mushrooms, carrots, parsley, stock and half of the mixed herbs. Season bring to the boil stirring frequently
5. Pour bacon mixture over top of chicken. Arrange potatoes on top overlapping each other. Sprinkle over remaining herbs and spray with fry light. Cover and bake for 1.5 hours Preheat grill to high. Remove lid from casserole spray with fry light and brown under grill.