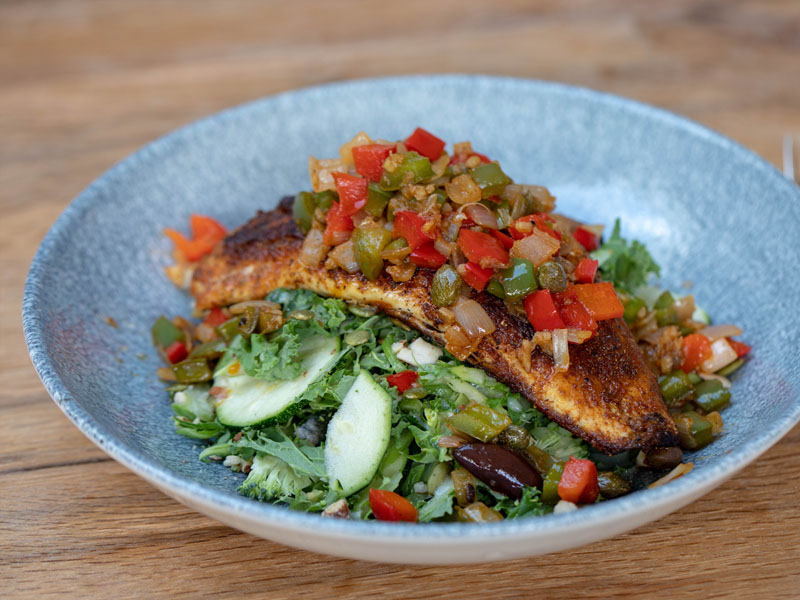 Mediterranean Seabass & Crunchy Slaw
Serves 4 – A delicious week day meal
Endorsed by Emma Wilson Fitness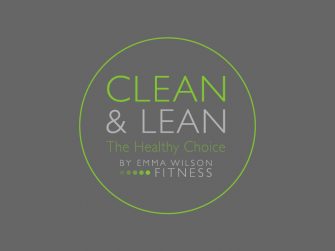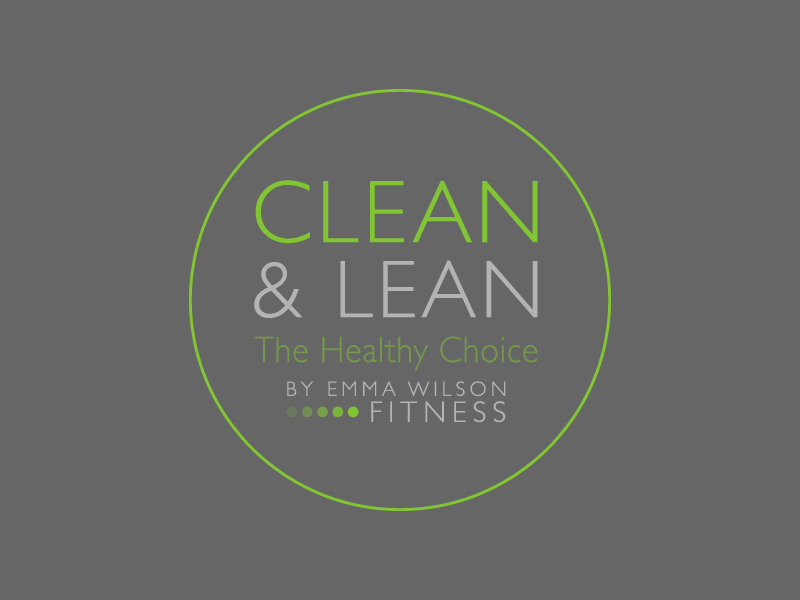 Ingredients
Sea Bass
4 pieces sea bass fillet
Olive oil
1 green pepper, chopped small
1 red pepper, chopped small
3 shallots, chopped
4 garlic cloves, crushed
64g halved kalamata olives (Olives et al)
½ lemon, juiced
Hand full capers
Spice Mixture
(We used ingredients from The Shropshire Spice Company)
½ tbsp ground coriander
½ tbsp garlic powder
1 tsp paprika
1 tsp ground cumin
½ tsp black pepper
Crunchy Slaw
1 head (400g) broccoli, cut into quarters
200g kale
6 stalks celery, cut into thirds
1 courgette, cut into thirds
150g sugar snap peas
2 handfuls coriander
2 handfuls skin on almonds (Hider foods)
1 green chilli, deseeded
1½ tsp Mrs Darlington's Dijon mustard & ½ tsp Mrs Darlington's horseradish sauce for horseradish mustard
4 tbsps olive oil
4 tbsps white wine vinegar
Himalayan pink salt
2 handfuls pumpkin seeds (Hider foods)
Method
Sea Bass:
Take the fish out of the fridge about 20 minutes before cooking.  Sprinkle with salt on both sides and set aside.
In a small bowl combine the spices to make the spice mixture
In a medium skillet, heat 2 tbsp olive oil over medium heat until hot and shimmering but not smoking.
Add the peppers, shallots and garlic.  Season with salt and 1 tsp of the spice mixture.  Cook, stirring regularly, for 5 minutes or until the peppers have softened.  Turn the heat to lowest and stir in the chopped olives and capers.
Pat fish dry and season with the remaining spice mixture on both sides.
Crunchy Slaw:
Place the broccoli & kale in food processor and pulse until chunky, then add celery, courgette and sugar snap peas.  Roughly hand chop the coriander and mix into the vegetables.  Crush the almonds and mix into the vegetables.  Chop the chilli and mix into the vegetables.
Add the horseradish, olive oil, vinegar, mustard and salt into a jar or dressing shaker.  Shake well until mixed.  Pour over the slaw and garnish with the pumpkin seeds.  Plate up ready for the sea bass.
Once Sea Bass & Crunchy Slaw is prepared:
In a large skillet, heat olive oil until shimmering.  Add the fish pieces, push down the middle for 30 seconds.  Cook fish on one side, undisturbed until nicely browned about 4 to 6 minutes.  Using a spatula, carefully turn the fish over and cook on other side for 3-4 minutes until nicely browned as well.
Remove fish from heat and immediately drizzle lemon juice over.  Serve hot with the pepper medley spooned on top of the fish, which sits on top of the crunchy slaw.