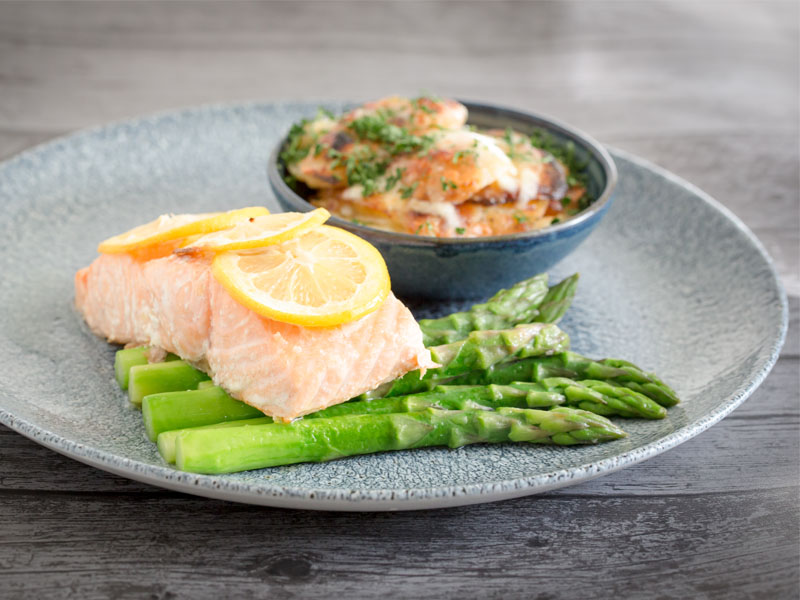 Oven Baked Citrus Salmon
With the brand new fish counter at Little Budworth at his finger tips, we got our Chefs to come up with a spring fish recipe!
For the Oven Baked Citrus Salmon
Lightly oil your fresh Salmon fillets with extra virgin oil and season with Maldon sea salt flakes– you can purchase this straight from our fish monger and normally a good size to ask for is 200g per fillet.
Place onto your baking tray using grease proof paper and top salmon with 3 thin slices of lemon.
In you preheated oven at 180 degrees bake the salmon for 8 minutes to ensure a perfectly cooked salmon that is lightly medium and very moist.
Dauphinoise potatoes
Ingredients:
X3 peeled and sliced potatoes
Mix 400ml double cream and 400ml milk
Melt 100g butter
80g garlic puree and mix with butter
100g grated Snowdonia Black Bomber cheese
Method:
Preheat oven to 180 degrees
Grease baking dish with butter
Layer sliced potatoes and season with salt and black pepper, coat with garlic butter and cream and milk mix, repeat this step until baking dish is full.
Sprinkle with grated Black Bomber cheese and bake in oven for approx. 1 hour until potatoes are soft.
The Asparagus
Prepare your asparagus by snapping the ends off and if you want to go the extra mile using a peeler, peel the ends of your asparagus for presentation points.
Cook the asparagus in boiling salted water for just under a minute and finish off with melted butter and salt and pepper.
Cheat!
If you want to skip all these steps you can purchase our Hollies range Dauphinoise Potatoes from the deli fridge, Fresh 200g portion of Salmon fillets and bunch of Asparagus all for just……
£11.45 – serves two portions.
Wine Pairing
Enjoy this dish with a perfectly paired bottle of Taringi Sauvignon Blanc that is available in the farm shop!