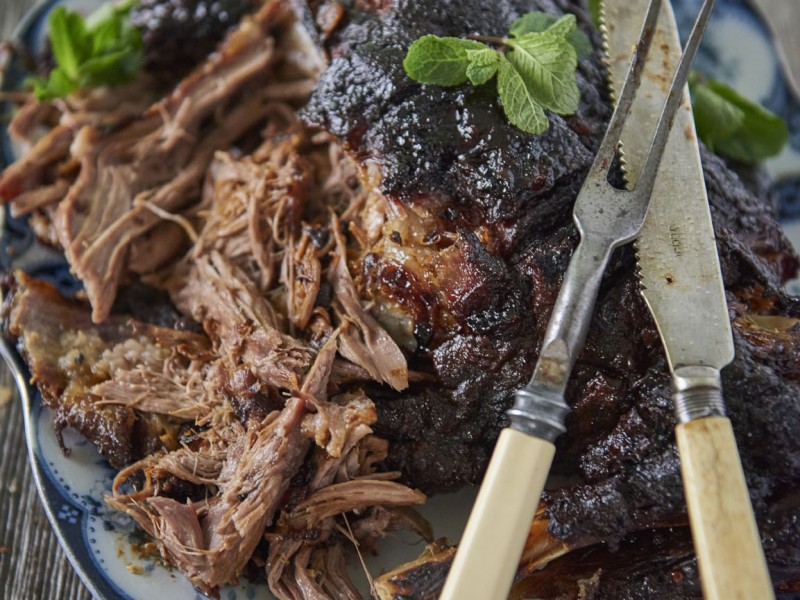 The Hollies Spicy Pulled Lamb Shoulder
The Hollies' Master Butcher, Andrew Vernon's recipe. A great way to enhance the Welsh lamb experience.
Serves 6
Ingredients
3kg Lamb Shoulder with bone
6tbsp Mrs Darlington's Dijon Mustard
2tbsp Pure Cheshire Honey
1tsp Cayenne Pepper
4tbsp Golden Granulated Sugar
1tbsp Demerara Sugar
Method
Create the marinade by mixing the mustard, honey, cayenne pepper and sugars together until they form a paste.
Score the lamb shoulder using a sharp knife and then push the marinade into the cut marks and rub all over the lamb shoulder.
Place in a roasting tin and place in the fridge overnight ideally. If time doesn't permit, then place in the fridge for at least 2 hours.
Preheat the oven to 180 C. When the oven has reached temperature turn down to 140 C and cook for 4-5 hours. Baste the meat with the juices several times during this time.
When the skin is crispy and the meat pulls from the bone, remove from the oven, resting for 15 minutes. Place the lamb on the serving platter and pour over the roasting juices from the roasting tin.
Serve with root vegetables or enjoy on a bread roll with braised red cabbage.