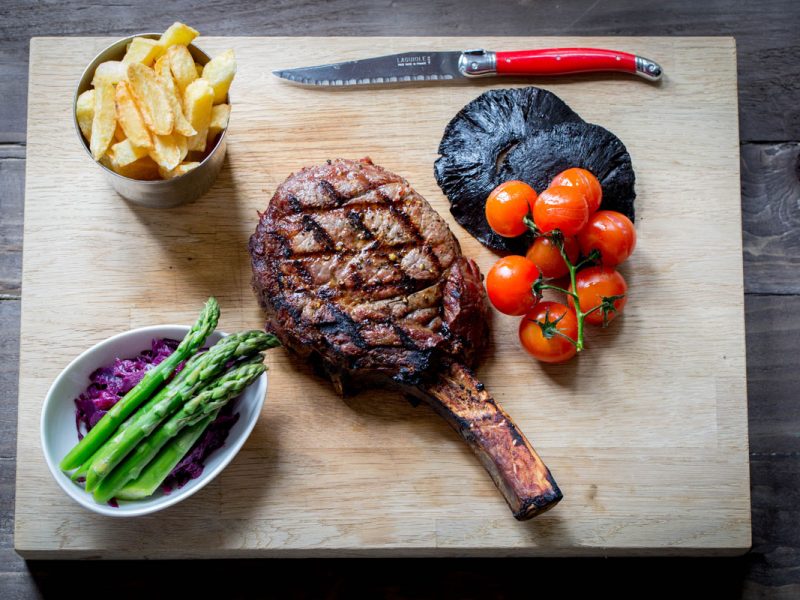 Tomahawk Steak Feast
Tomahawk steak feast
Ingredients
25oz Tomahawk steak
Chipped potatoes
Tomatoes on the vine
Mixed vegetables
Flat mushrooms
Method
1. Bring the Tomahawk steak to room temperature
2. Chip the potatoes and blanche at 150c until soft and leave to cool
3. Follow the guidelines below depending on how you like your steak cooked (these are approximate guidelines);
                     Sear in pan         Oven roast at 230c         Resting time             Total cooking time approx
Rare –          8-10 mins                  22-24 mins                         10 mins                                       40 mins
Medium –   8-10 mins                 30-32 mins                         10 mins                                       50 mins
Well done  8-10 mins                 36-38 mins                         10 mins                                       55 mins
BBQ rare    Cook 1st side      Cook 2nd side
well done    10-15 mins                5-10 mins                           10-20 mins                               25-45 mins
When the steak is cooked to your liking, use the press test or meat thermometer to check if cooked
Leave in a warm place to rest, allowing the meat to relax and become moist and tender all the way through.
4. Re-fry the chips at 170c in a deep fat fryer
5. Boil your chosen seasonal vegetables
Serve the steak by holding the bone with one hand and slice along its length to cleave the meat from the bone.