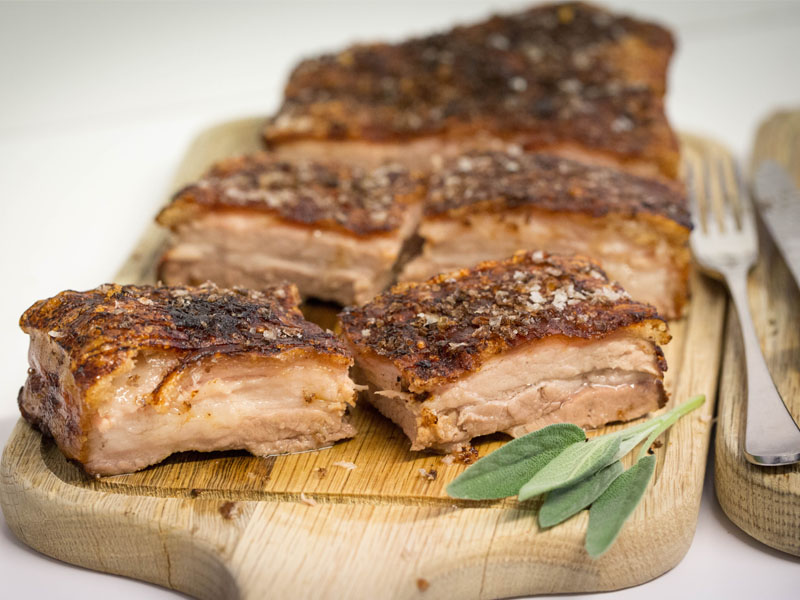 Twice cooked pressed Pork Belly with Chilli and Garlic.
By Andrew Vernon, Master Butcher at Little Budworth
Ingredients:
Piece of The Hollies Belly Pork
Fresh Garlic Bulb
Fresh Chillies.
Salt
Method
1. Ask your Hollies Butcher to score and partly remove the bones in the sheet of pork belly.
2. Place fresh garlic cloves and whole chillies between the remaining bones and meat where it has been scored.
3. Sprinkle salt on the rind.
4. Place in a roasting tin.
5. Cover with foil.
6. Roast for an hour and a half at 140c.
7. Remove the foil.
8. Sprinkle lots more salt on the rind.
9. Roast uncovered for a further hour and a half on 140c.
10. Take out of the oven.
11. Place a sheet of baking parchment over the belly pork.
12. Put a plate/tray/dish on top with some weights on it. (You could use tins from your cupboard if you don't have any weights) This is to weigh the pork down and squeeze out some of the fat.
13. Leave to cool for 6 – 8 hours.
14. Place in the fridge over night.
15. Remove baking parchment.
16. Cook uncovered for a further hour and a half on 200c.

Eat and Enjoy!
Why not try serving it with some dauphinoise potatoes from the COOK range and some mixed herb and garlic carrots from The Hollies Homemade Range?