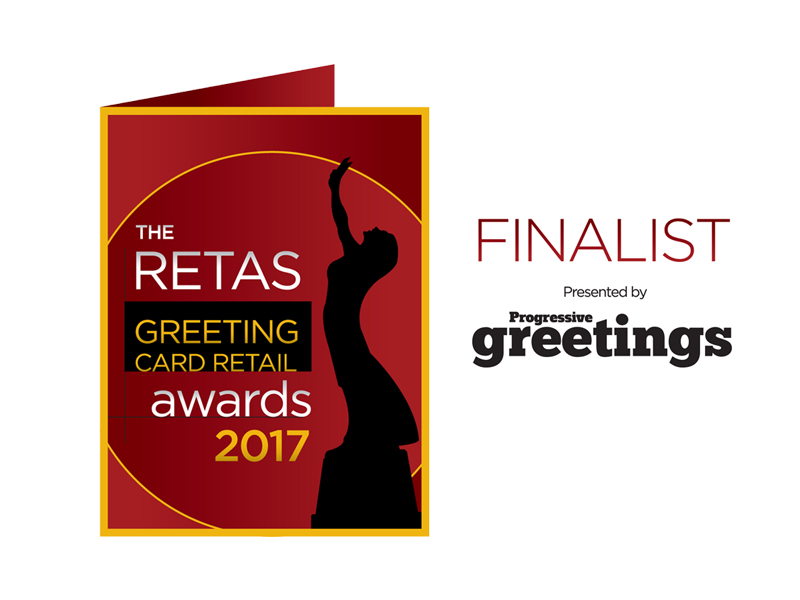 The Retas 2017 Greeting Card Retailer Awards!
We have made it into the prestigious nationwide Greeting Card Retailing Awards Finals!
It's official! The Barn at The Hollies Farm Shop is one of the best card retailers in the UK, having reached the finals in The Retas 2017 greeting card retailer awards.
We are finalists in the Best Non-Specialist Independent Retailer of Greeting Cards – North category AND Sue Williams from our Lower Stretton Farm Shop has made it to the final of the Greeting Card Retail Employee of the Year! 
The Retas Awards, now in their 13th year, were launched by Progressive Greetings magazine to recognise and reward the UK's very best greeting card retailers from right across the retail spectrum. Greeting cards are sold in one in six shops in the UK, reaching the finals of The Retas is a notable achievement.
"The sending of greeting cards is an ingrained part of UK culture, with the British public spending an unprecedented £1.7 billion on greeting cards in the last year alone," commented Jakki Brown, editor and co-owner of Progressive Greetings magazine, which organises The Retas Awards. "The nation leads the world in greeting card design and sends more cards per capita (30 cards per person) and The Retas Awards celebrate the very finest greeting card retail stockists in the UK."
All Retas finalists were decided as a result of an industry-wide poll of greeting card suppliers, reps and agents and validated by a panel of experts.
The Awards recognise and celebrate not only the top independent and multiple greeting card retailers regionally and nationally, but also outstanding retail employees.
These dedicated awards for retailers have risen immeasurably in status over the last decade and are now universally acknowledged as being true accolades of excellence.
We will be keeping our fingers crossed until July 12th when the winners will be announced!
Click here for further details and to see who else has made it to the finals!
Categorised in Farm Shops, General