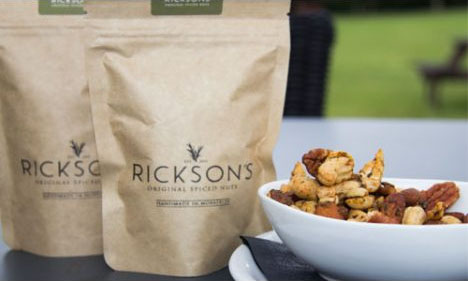 Rickson's Nuts
A fabulous new local supplier for our Farm Shops both at Little Budworth and Lower Stretton are Rickson's Original Spiced Nuts. Rickson's is a family company that hand make exquisitely spiced nuts from the heart of Cheshire down the road from us in Mobberley. Being a family run business ourselves we love to hear the great stories of the people behind great products like this, and being able to support local producers is what we are all about.
The company was founded by brothers Josh and Ben Northover this year. Inspired by their father Rick's tradition of sharing batches of spiced nuts with friends and family over the Christmas period they decided to create them as a product to sell; hence the name Rickson's was born as a result of them being simply 'Rick's sons'.
Rickson's combines the simplest ingredients to create classic, complex and uniquely flavoured nuts. The resulting taste is equally herbed, sweet and salty, with a final note of heat. The flavoured Almonds, Cashews, Peanuts and Pecans are perfectly paired with a glass of wine, a seasonal cocktail or a pint of local Ale; delicious!
Categorised in Farm Shops