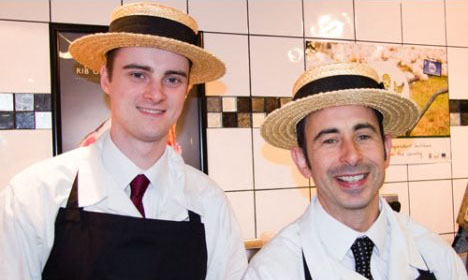 Welcome Russ and Dale
Meet Russ and Dale, the newest additions to our Butchery Department at Little Budworth. Russ brings with him over 30 years of Butchery experience, and Dale was taught by Russ when he first decided to embark upon a career in Butchery after leaving school 5 years ago. Your local Butchers at The Hollies work hard all year to bring you the freshest and tastiest, fully traceable meats to their counter and we are excited to have two new skilled Butchers on board.
Russ left school at 15 and started working at Littler's in Sandiway, where he learnt traditional butchery skills from Arthur, the owner and Master Butcher. When Arthur retired he passed the business onto Russ and another Butcher, Michael, who carried on the business. 7 years ago Russ helped to set up the Littler's Butchery in Hartford and built up business there too. Looking for a new challenge and a change of environment brought Russ to us; he liked the look of the set up at The Hollies and was interested to learn about new products and different ways of doing things.
A week after his 16th Birthday Dale started working for Littler's in Sandiway where he met and was trained by Russ, and his key role initially was making burgers. Dale and Russ spent a few years working together, and Dale, learning under Russ soon progressed from learning the art of sausage making to the process of breaking down the various carcasses correctly, including lamb and pork. Last year Dale moved on to Sheaf Farm and enjoyed a short run there before it unfortunately closed down in September. On Russ's advice, Andrew our Master Butcher got in touch with Dale and offered him a job within our Butchery; so the pair are united once more and we wish them a warm welcome!
Categorised in Butchery, Farm Shops