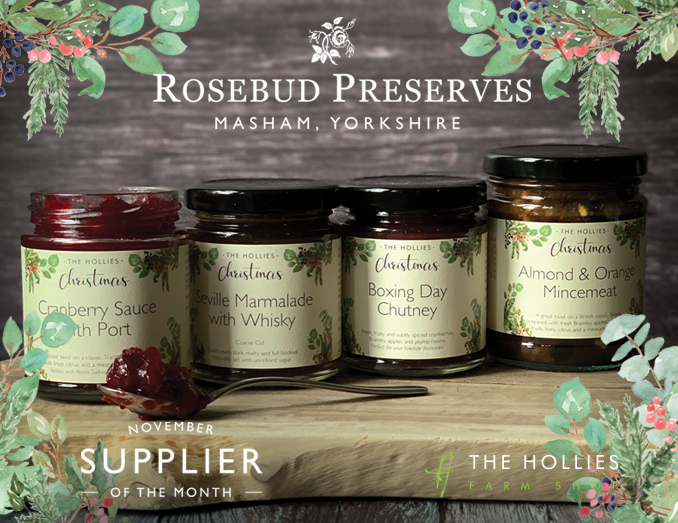 Supplier of the Month
Introducing our Supplier of the Month for November, Rosebud Preserves. Rosebud supply us with delicious marmalades, jams, pickles and relishes.
Rosebud was started by a young woman named Elspeth who was passionate about the English countryside. In her spare time, she would wonder the wilderness foraging for berries, apples, watercress and mushrooms. With help from her mother, Elspeth started to produce delicious seasonal treats. The family then moved to Rosebud Farm in North Yorkshire, where Elspeth was able to begin production of her tasty preserves.
Rosebud create high quality preserves through simple balanced recipes, careful sourcing, generous quantities, no additives or preservatives, using unrefined cane sugars and skilful cooking.
Over the festive season, we have paired up with Rosebud to create some delicious preserves. Try our Seville Marmalade with Whisky made up of citrus fruits which give it a full bodied, sweet, malty taste. Try this thick cut marmalade smothered on a piece of toast.
Add some Cranberry Sauce with Port to your Christmas Dinner. This jelly is made up of Bramley apples, perfumed quinces, wild crab-apples and rowan berries.
Or try our delicious Boxing Day Chutney with fresh, fruity spiced cranberries, Bramley apples and plump raisins. Perfect for your Yuletide festivities.
Create perfect Mince Pies with our Almond & Orange Mincemeat. A great twist on a British classic, prepared with Bramley apples, plump vine fruits, citrus fruits and a good measure of brandy.
Come and try our delicious Rosebud preserves from The Hollies, they are bound to get you in the festive mood.
Categorised in Coffee Shops, Farm Shops, General