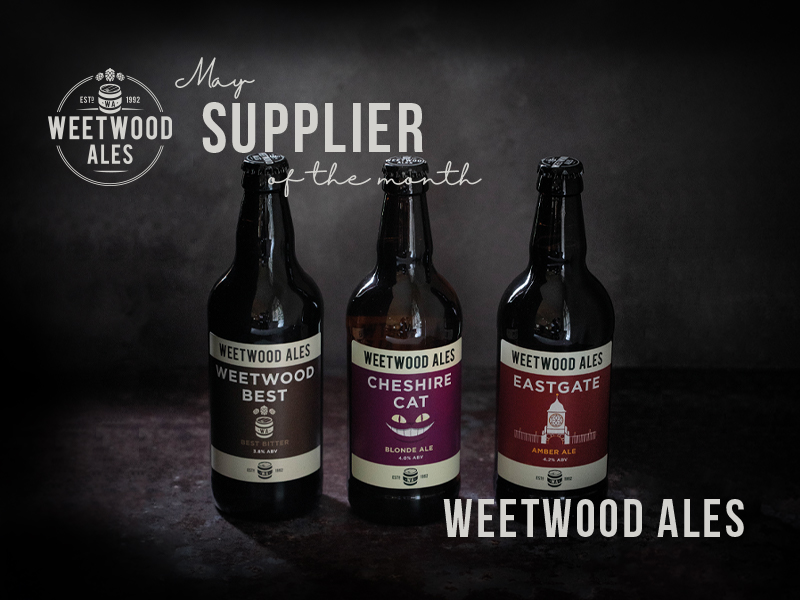 Supplier of the Month; Weetwood Ales
Introducing our Supplier of the Month for May, Weetwood Ales. We have over 75 local suppliers at The Hollies, we love showing off and getting to know each of our many suppliers. Weetwood Ales are an independent business located in Tarporley, Cheshire, they are a brewery who brew premium beers and now have their own Distillery.
Weetwood Ales was established in 1992 by Adrian Slater, a skilled brewer and his companion Roger Langford, a farmer with a love for beer. Weetwood Ales developed a reputation for consistent quality and dedication to production. Years later, both Adrian and Roger took a break from the brewing industry and new owners Phil McLaughlin and Laura Humby arrived to take over. Phil and Laura are siblings who bring experience, passion and enthusiasm to the business to ensure that high quality standards were being maintained.
Weetwood Ales brew and distribute more than 1.5million pints a year. They claim that 'Our beers are brewed to add to the enjoyment of life. We believe in brewing for flavour and character.'
Weetwood have a range of different beers available from classic bitters to pale ales. With some favorites of ours such as the Cheshire Cat, a smooth Blonde Ale that is well-balanced with citrusy flavours, using the finest malted barley and whole leaf hops.
They have recently begun to brew their own Gin and Vodka at their Weetwood Distillery. Look out for their fabulous Gin and Raspberry Gin stocked at The Hollies Little Budworth and Lower Stretton.
At The Hollies Little Budworth we stock a large variety of bottled Weetwood Ales. Also look out for Weetwood Ales visiting the store to do a sampling of their tasty beverages very soon, updates will be posted on to our social media sites.
Categorised in Coffee Shops, Farm Shops, General, Uncategorised