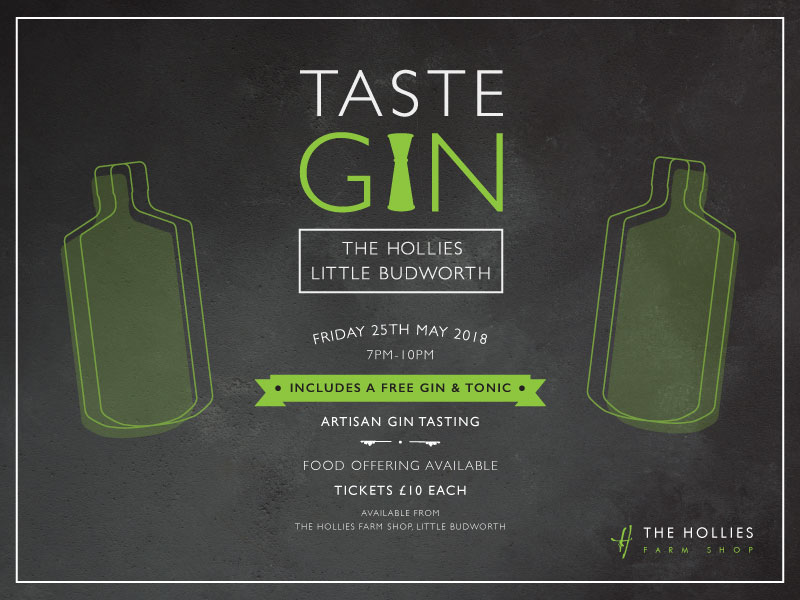 Taste Gin – Little Budworth
Introducing TASTE GIN, coming to our Little Budworth farm shop this May! From 7PM – 10PM on Friday 25th May, enjoy lots of delicious artisan gin tastings. Tickets cost £10 each which includes a free gin and tonic on arrival.
Tickets available NOW in the farm shop at Little Budworth!
Gins confirmed so far are;
– 5 from Chase Distillery; Sloe Gin, GB Gin, Elegant Gin, Pink Grapefruit Gin and Seville Orange Gin.
– Locally made Second Son Gin plus their new one.
– Grins Cheshire Gin
– Arrowsmiths Rhubarb Gin
– 3 Gins from Whitley Neill; Raspberry, Blood Orange and Rhubarb and Ginger.
– Peaky Blinder Spiced Gin
– Aber Falls Violet Liqueur Gin
– Hunters Cheshire Gin
– The English Drinks Company; Original & Pink.
– Jeffrey's Tonic
Why not book your table for dinner in our Restaurant 59 at The Hollies? The team will be serving food until 10.30pm on the evening of the 25th May with a limited dinner menu available. Table bookings are in 1 hour 45 minute slots at 6PM, 8PM and 10PM.
[email protected] | www.59atthehollies.co.uk | 01829 760884
Look out for some special Gin and Tonic products in the run up to Taste Gin. Our Butchery department at Little Budworth are currently working on creating a Gin & Tonic Sausage, a Gin & Tonic Burger AND a Gin & Tonic Sausage Roll! Samples of these will also be available on the evening of the 25th May.
Let the good times be-GIN!
Categorised in Butchery, Farm Shops, General