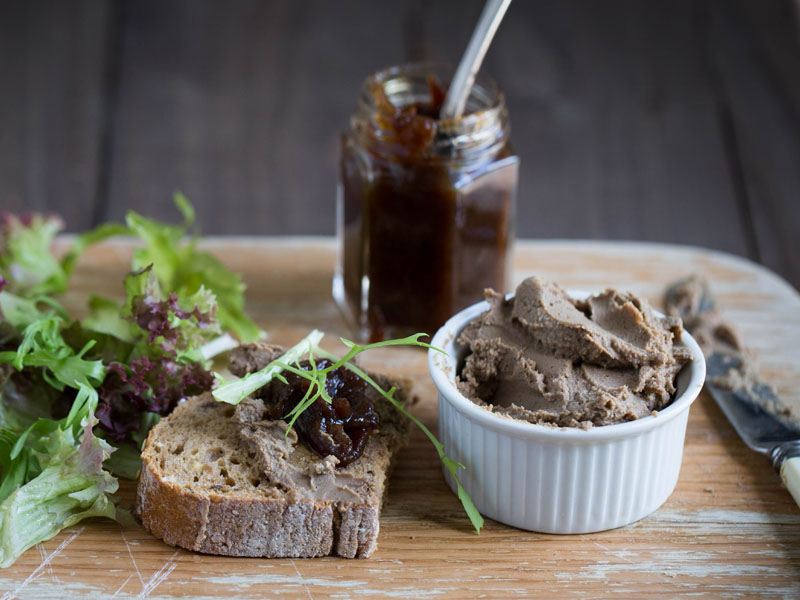 The Patchwork Story
As Patchwork Pâté celebrates its 35th year in business, we were treated to a visit from co-founders Margaret Carter and Jenny Whitham. We were keen to hear all about the history and the great people behind Patchwork Pâté, their new chilled range and what they have in store for the future.
On finding herself divorced with three children to look after, Margaret decided that she needed to find a way to earn some more income.  After choosing to move to Wales, she set off making preserves and selling them locally as 'Patchwork Preserves'. Adapting skills from her knitwear background, Margaret used to put patchwork hats made from 4 small pieces of material on top of the preserves; hence the name Patchwork was born. Sadly, these preserves didn't sell as well as she expected or needed them to, so she needed to think of something else. In the restaurant where the preserves were being sold, Margaret asked the Chef in there what she could make to get some more money coming in. The lady suggested 'Pâté' to which Margaret immediately said yes. Unfortunately at this point, Margaret didn't even know what pâté was, how it was made or anything about it!
Margaret and Jenny researched and found out what pâté was and how to make it and began making a kilo per week of Brandy and Herb pâté. They identified 5 local places that they would take samples to, however, frightened that the people they were showing it to wouldn't want it or even know what pâté was, it took 3 attempts on three consecutive days for Margaret to pluck up enough courage to get out of the car! On the third day with encouragement from Jenny, Margaret finally felt brave enough to get out of the car. It turned out she had no need to worry; all 5 places said yes!
To this day, Brandy and Herb is still their best seller, outstripping the sales of all the other flavours. The pâté is still made in same way it always has been. They use the best raw ingredients and do not use any preservatives or additives (mainly Margaret says, because they don't actually know what on earth they are!)
Jenny has developed all of the recipes from day one, which will be nearing up to 100 by now. She is not a trained cook but has an eye and a way of assembling ingredients that sounds good, taste good and are good. Each and every batch made, is taste tasted by Jenny and Rufus, one of Margaret's sons, to ensure that the quality and taste is how it should be. High praise comes from Margaret and Jenny for the team that work alongside them at Patchwork. They have a great core team within which some have been with them for between 10 and 30 years!
Margaret says, "One of the things I have always wanted to be in business is the best. Best has to start firstly with the product, and secondly it has to be delivered with the best service. You can't have one without the other".
This sentiment has served them well, winning national and international awards in business as well as Margaret herself winning 'Welsh Business Woman Of The Year', 'European Business Woman Of The Year' and 'Lifetime Achievement In The Guild', the latter being one of highest personal achievements.
To tie in with celebrating 35 years in the business, they have launched a new range of chilled, smooth chicken liver pâté; original, smoked and chilli. They debated for a long time what name to put to it and whether or not to keep it under the Patchwork umbrella, finally deciding on making it about the product standing out rather than the brand. 'PATE by Mags and Jen' seems an apt name to celebrate the great achievements of the two founders of such a successful business. Jenny found some old pictures of them both and these fabulous black and white 'mugshots' feature on the packaging too.
"We are not trained in anything. We are just doing what we do to the very best of our ability. We love our products, we all eat them, and we love our customers."
For more (wilder!) stories of the business, watch out for their book which is currently a work in progress!
Categorised in Delicatessen, Farm Shops, General