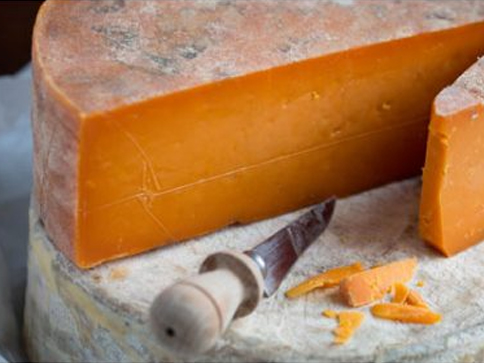 Thomas Hoe Stevenson Aged Leicestershire Red
Thomas Hoe Stevenson cheese is the premium brand made by the Long Clawson Dairy and is named after their founding father who started making cheese in the 1800's. Following the techniques and traditional methods that Thomas Hoe Stevenson would have used, they continue to make top quality cheese at their award winning dairy.
Made using a traditional recipe, Aged Leicestershire Red is buttered, cloth-bound and matured for six months. This produces a flaky, open textured cheese with a slightly sweet, caramelised flavour with a rich golden orange colour. This is the only pasteurised Red Leicester produced in the county of Leicestershire and it won various awards in 2015 including a Gold at the Nantwich International Cheese Awards for 'Whole Wheel Colour Cheese', and Gold for 'Red Leicester Traditional' at the British Cheese Awards.
Our cheese fridges at both Little Budworth and Lower Stretton are packed full of a wide range of delicious cheeses. A lot of these are cut, packaged and labelled each week with care at our Delicatessen at Little Budworth.
Categorised in Delicatessen, Farm Shops, General