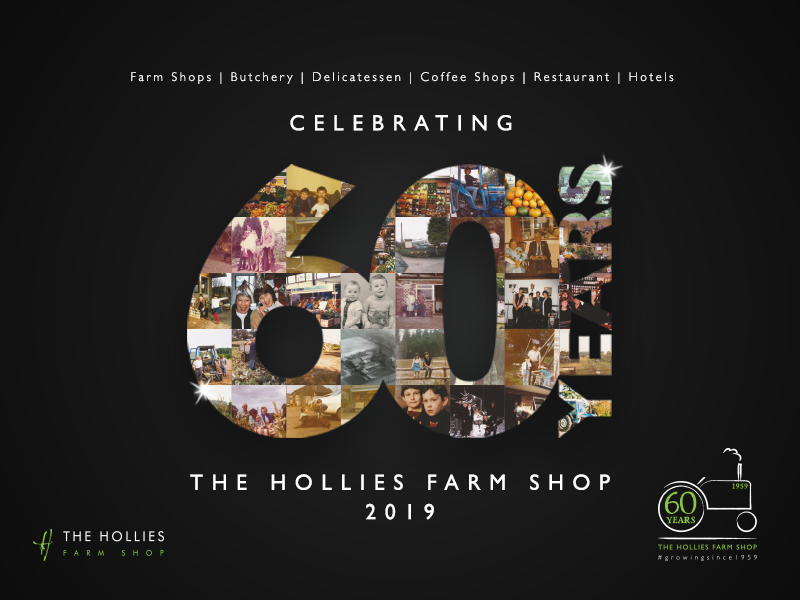 A trip down memory lane…
The Hollies Farm Shop; a family business that has been growing since 1959 where it started humbly as an honesty box on the side of the A49. #growingsince1959 represents many meanings. The Cowap family has grown; the team around the family has grown; the business has grown; new businesses have grown; Christmas trees, pumpkins, plants and more are still grown on The Hollies land.
Every Thursday on our social media channels, we take a trip down memory lane and share with our followers a photograph from our archives. Follow us on Facebook, Twitter and Instagram for our updates!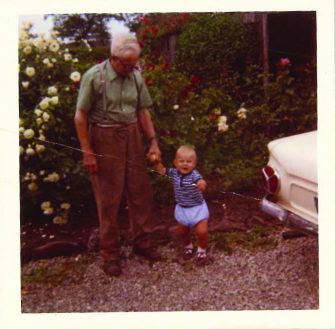 This photo of Phil with his granddad Edward was taken in 1970. The Hollies story began 20 years before that in the 1950's when Edward and Rose Cowap moved to Greenlands Cottage (which adjoined The Hollies house).  Edward had got a job as a gardener with accommodation provided so he moved his family from Runcorn to take up this role.
In 1959, Edward (known affectionately as Dick) and Rose moved into The Hollies house and Richard, who was farming at Fennywood Farm in Little Budworth, joined his mother and father with £100 in his pocket and £100 loan from Mr Turner at Midland Bank in Runcorn. This was the origins of The Hollies Farm Shop!
Beginning with a vegetable stand on the side of the road with an honesty box, it wasn't long before they began selling more produce from their home to meet demand.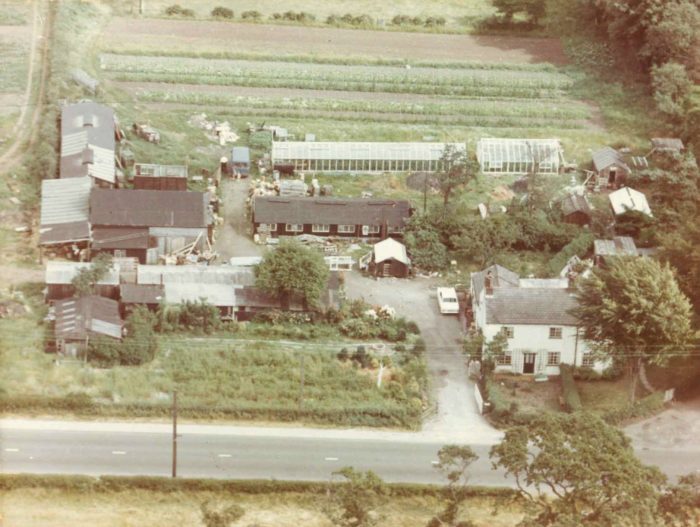 This photo is an aerial shot of The Hollies Little Budworth taken in 1971! At this time, the Cowap family were growing produce on site including tomatoes in the greenhouses and crops in the fields to sell to the locals. You might be able to spot children playing by the blue van and Richard's white Ford Cortina in the 'car park'!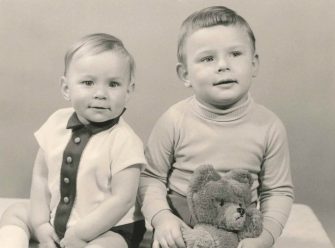 This photo of brothers Phil and Ed was taken back in 1972. Fast forward to today and you'll find Phil and Ed are now at the helm of the business. You will still find them on site every day, setting up the farm shop alongside the team, happy to do any part of the job that is required.  Their passion for their family business and for what they do shines through and is passed on to the team around them.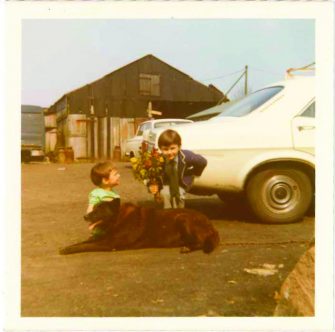 This photo is of Phil & Ed in 1974 in the yard / car park with Shep the dog and a bunch of freshly picked wallflowers which were their Granddad's favourite flowers. Phil remembers Shep was a bit of a biter and when cars were leaving The Hollies, Shep would run after them barking – certainly not a pleasant customer experience!!
The brothers are stood in front of their Aunty Betty's car (Phil remembers her reg plate was BMB133F) and behind that is their Dad Richard's Mark 1 Cortina (Reg. KTU853C). Behind that further is the old farm barn which is now where you will find all our cards, gifts, homeware and more in what is now The Barn!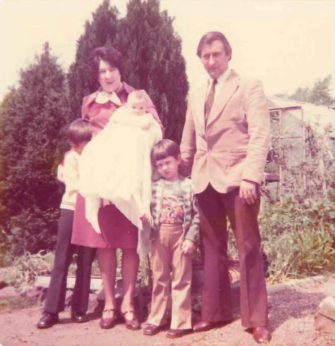 This photograph of Hilary and Richard with Phil, Ed & Sue was taken (according to Phil's memory for dates) outside one of the greenhouses on the first Sunday of July in 1976. It was a bright sunny day and the Cowap family were celebrating Sue's Christening.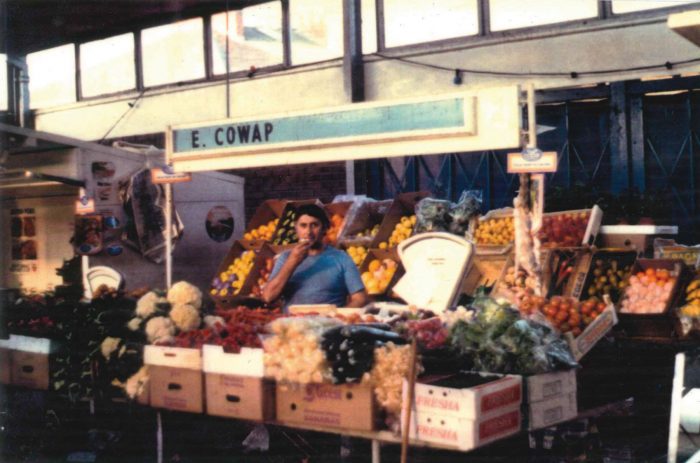 This photo is of Richard at their market stall in Runcorn during the summer of 1986. Phil remembers it had been an extremely hot day and they went to set up their stall that evening ready for market day.
Back at The Hollies at Little Budworth in 1986, demand for fruit & vegetables was growing. The family would take it in turns to go out to customers and the first footings of the farm shop began to be built out of the cattle shed.
__
For more memories of The Hollies including customer memories, photographs and comments from past and present team members pick up our 60th anniversary magazine in store. The brochure has an RRP of £5 which, in a nostalgic nod to our origins, we ask customers to pay their donation into an honesty box built into the magazine stand. All the money collected over the year will be donated to two local charities; St Luke's Cheshire Hospice and Tarporley War Memorial Hospital.  Both charities offer valuable services to our local community, so help us reach our £10,000 target!
Categorised in Butchery, Coffee Shops, Delicatessen, Farm Shops, Forest Lodges, General