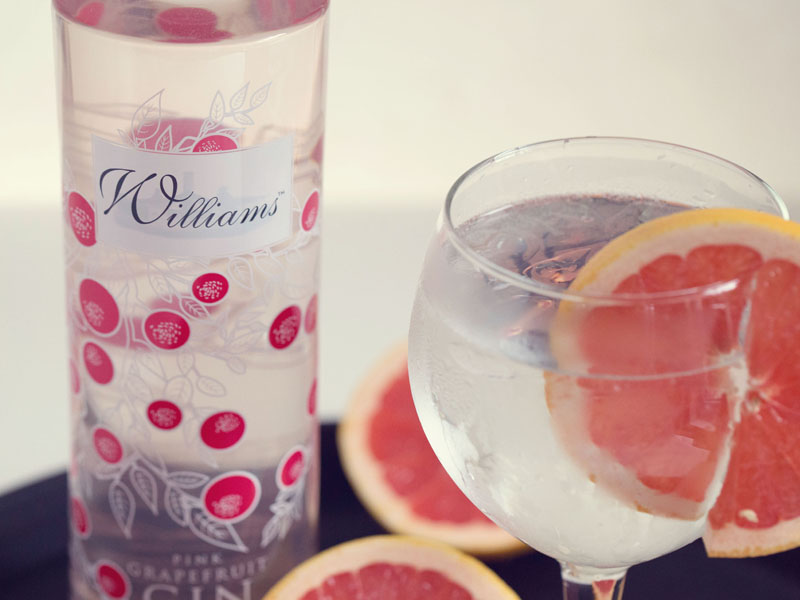 Williams Pink Grapefruit Gin
William Chase grew up in Herefordshire and went from farming potatoes for 20 years and supplying various supermarkets, to making crisps under the name of 'Tyrrells'. As Tyrrells grew, William was looking for his next project and whilst traveling came across a small distillery making potato vodka. After some further research, Chase Distillery and in turn Chase Vodka was born! It is well known that gin actually starts off as vodka, and so by re-distilling the neutral grain spirit, William was then able to create some really tasty gins.
The newest addition to their gin range is the Williams Pink Grapefruit Gin which is now available at The Hollies. This is a citrusy spirit pairing pink grapefruit and pomelo, bursting with the tartness of the grapefruit, with robust notes of juniper. They use their GB Gin as the base spirit, then slowly infuse a range of eight botanicals including orange peel, liquorice, elderflower and bitter almond before being distilled in a copper gin still with the pink grapefruit and pomelo peels.
We recommend serving it in a large balloon glass over ice with a premium tonic such as 1724 Tonic and a slice of fresh pink grapefruit.
Categorised in Farm Shops, General