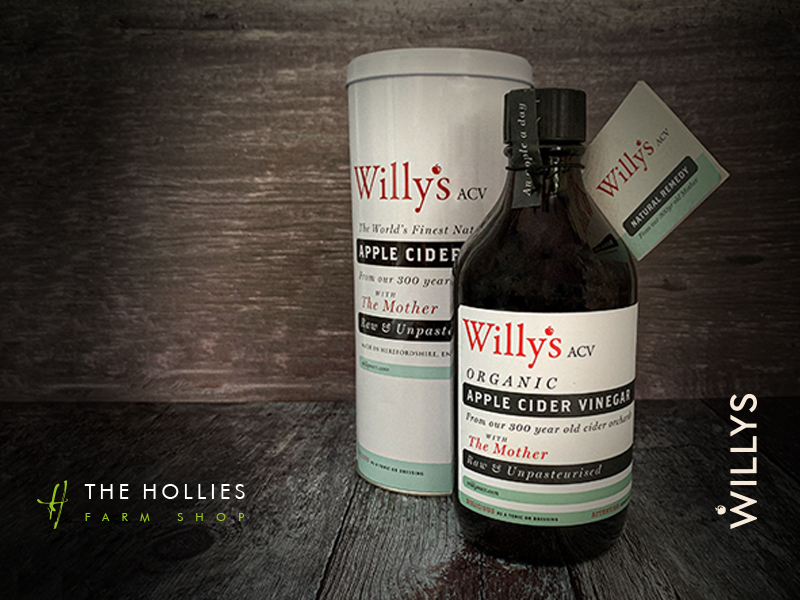 Willy's Apple Cider Vinegar
Introducing Willy's Apple Cider Vinegar from the man behind Tyrrell's Crisps, Chase Vodka and Williams Gin – William Chase. William Chase grew up in Herefordshire and went from farming potatoes for 20 years and supplying various supermarkets, to making crisps under the name of 'Tyrrells'. Next, William started to distill Chase potato vodka, and by re-distilling the neutral grain spirit, William was then able to create some really tasty gins too (which we sell here at The Hollies)!
William's most recent venture is Willy's Apple Cider Vinegar. After inheriting 200 acres of untouched old organic orchards when he moved to Laddin Farm in 2006 he said,
"I fell in love with the old trees. The sense of balance in the old orchards was incredible and I felt it was my duty to preserve it. The apples made it the most incredible cider and having learnt the craft of fermenting alcohol, I soon realised that a new trend for fermented health foods was gathering momentum and tried my hand at the next step of creating apple cider vinegar with the help of 'The Mother' ".
Not his mother we might add, 'The Mother' is the strands of protein and gut-friendly bacteria that forms during the process of converting cider into vinegar.
Since Roman times, the benefits of fermenting apples into apple cider vinegar have been recognised. Willy's recommend a daily dose of 25ml in warm water with honey and lemon, in a favourite smoothie or mixed with olive oil in a salad dressing (always dilute it). According to William, a daily dose can reduce cholesterol, increase energy levels and improve sleep alongside many other benefits. Sir Ranulph Fiennes claimed it helped to relieve the symptoms of his arthritis as it reduced swelling.
Try it yourself this September from The Hollies Farm Shops. Find out more at www.willysacv.com
Categorised in Farm Shops, General