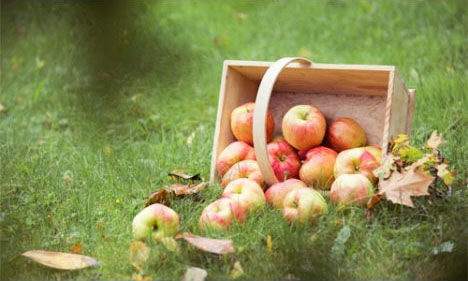 Delicious Local Apples
As a family run business ourselves, we love to hear the great stories of the people behind the great local produce in our shops. Willington Apple Juice is available all year round in The Hollies Farm Shops at both Little Budworth and Lower Stretton, and is also a firm favourite on the drinks list in our Coffee Shops. From mid-September we will have a variety of Winsor's Apples from their fruit farm down the road from us in Willington, and we were lucky enough to speak to David who was only too happy to tell us all about the family run business and their apples.
The Winsor family planted their first apple trees in Cheshire in 1953 as part of their market garden enterprise. From there the business has grown to what it is today, still based at Willington Fruit Farm with the original trees cropping. As the business grew so did the family and it is now quite usual to have three generations in the fields working together.
At this time of year the soft fruit season is coming to an end and thoughts turn to the apple harvest. The blossom on the trees in May gives a good indication of what crop you might expect later in the year. From then until Autumn they put their skills and knowledge into the orchards plus a great deal of hope. It is always a gamble against the weather and the crop is not safe until harvested. They are not quite there yet but so far they are happy to say the crop is looking very promising and quality is very good (fingers crossed!). Bramleys have already started to be picked at 100mm (big!)
Discovery are one of the first eaters to ripen, bright red apples with crisp white flesh. A pretty apple with a distinct strong fragrance. As with all of the early varieties they are not great keepers so they are not available for long.
James Grieve become available at almost the same time. More tart than Discovery with their own unique taste, also good for culinary use.
From mid-September the main crop varieties ripen. Cox's Orange Pippin being probably the best known of all English apples. They keep well with excellent flavour and fragrance, sweet when fully ripe and can range from crisp, slightly sharp flesh to a sweeter, softer texture as the season progresses.
Spartan ripen a little later still. Deep red coloured skin that is almost purple with very white, crisp flesh. Many apple growers David knows say this is their favourite apple for flavour. For the very best flavour it needs to be freshly picked, preferably before the dew has gone.
Kidd's Orange will ripen about the same time with an almost conical shape, pink skin and texture very similar to Cox. A "fruitier" flavour than Cox and often people comment they have a hint of pear or even banana to them.
These are just a few of the varieties they grow, there are many more with their own flavours, textures and character. In addition to the apples they have steadily developed their delicious apple juice over the last 20 years. The third generation of the Winsor family are now picking off those original trees and pressing them for juice. The first member of the fourth generation was born last year and trees for a new orchard have been grown to mark the occasion. A special limited Celebration Blend was also created for the occasion, and this recently won an award so was a fitting tribute.
They entered the Royal Bath and West of England Orchards Championships with their juice and achieved a Gold and two Bronze awards in the biggest championships of their kind in Europe. In addition they were awarded the Best Juice in Show trophy at the same time, a fantastic achievement and something they are obviously very proud of.
Categorised in General