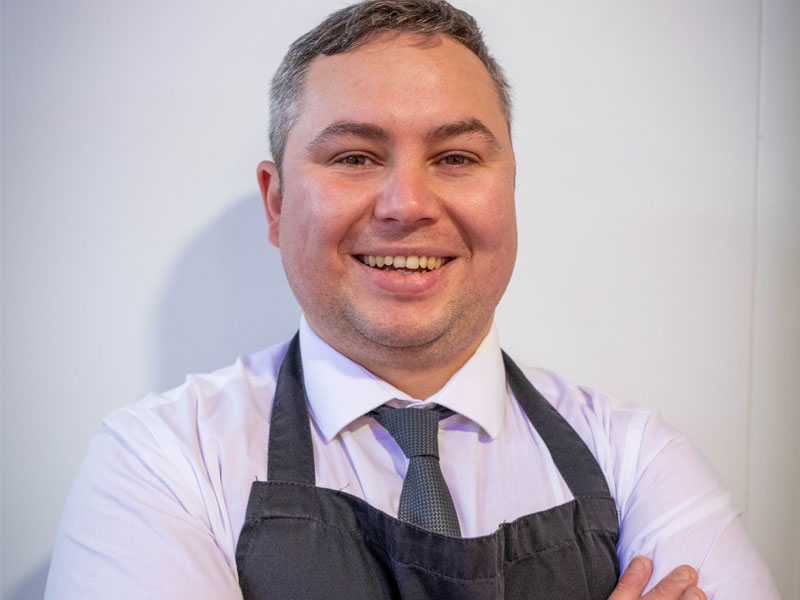 The World Butchers' Challenge
We are proud to announce that Liam Lewis from our Little Budworth Butchery department will be taking part in the World Butchers' Challenge next year! 'The Greatest Butchers Event on Earth' takes place in September 2020 and Liam is part of a team of 6 representing Wales against lots of other teams from around the world.
Liam joined The Hollies in October 2016 and has since become a key member of our Butchery team at Little Budworth. He is passionate about food and loves cooking, eating and coming up with new product ideas for our customers.
So, why is he representing Wales you may ask? Well, Liam was born in Caergwrle near Wrexham and is proud of his Welsh roots. He has fond memories of growing up exploring the local area with his friends, especially the castle in the village, Caergwrle Castle. Liam is a massive rugby fan and always cheers on the Welsh side when they play!
A lot of the high-quality meat you see in The Hollies Butchery is sourced from Llanrwst through Conwy Valley Meats. Llanrwst is situated on the River Conwy which flows into the Conwy estuary where lush pastureland makes an ideal setting for raising top quality beef. All livestock is procured within 40 miles of Llanwrst from dedicated farms and local livestock auctions, giving the meat full traceability back to the farm it came from. Another one of our key Butchery suppliers is Bicks Chicks based in Wrexham, who are a third-generation family run poultry business with over 35 years' worth of experience.
Liam tells us he 'fell into' the Butchery profession. Whilst at college he used to play football with a guy from a local Butchers and he got asked if he wanted a job. His first job was making Pigs in Blankets over his Christmas holidays and after the holidays he never went back to college! Liam has fine-tuned his skills over the last 13 years in various Butcheries and is looking forward to his next challenge!
Joining Liam on Team Wales is Captain Peter Rushforth from Handbridge Butchers in Chester, Tom Jones from Stanley Jones Butchers in Wrexham, Craig Holly from Neil Powell Butchers in South Wales, Dan Allan-Rafferty from Jones Brothers Wholesale Butchers and Matty Edwards who is an assessor for Coleg Cambria in Wrexham and Deeside.
When we asked Liam what made him enter, he said, "all of the best Butchers from around the world enter – it is like the World Cup of Butchery! This competition is the pinnacle of the Butchery world and it has always been a great ambition of mine to enter. I'm so excited to finally be able to take part".  
Look out for Liam in the Butchery at Little Budworth fine tuning his skills and working on awesome product displays ready for the World Butchers' Challenge!
Categorised in Butchery, Farm Shops