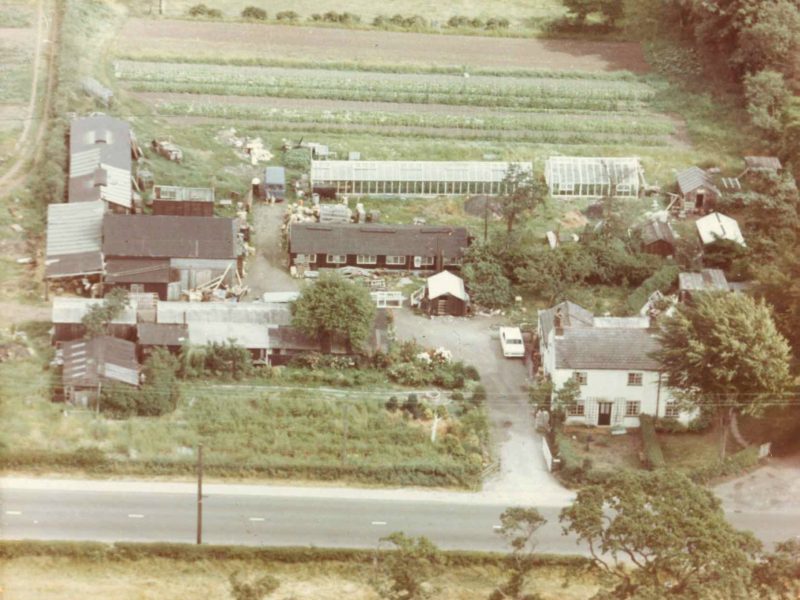 Growing since 1959
The Hollies Farm Shop; a family business that has been growing since 1959 where it started humbly as an honesty box on the side of the A49. #growingsince1959 represents many meanings. The Cowap family has grown; the team around the family has grown; the business has grown; new businesses have grown; Christmas trees, pumpkins, plants and more are still grown on The Hollies land.
You may have seen that every Thursday on our social media channels, we take a delve into our archives and share a memory. Why not follow us on Facebook, Twitter and Instagram so you can see our #ThrowbackThursday updates weekly?
1981
This photo is of Ed and Sue with their Grandad Edward taken in February 1981 after Grandad had built Sue a Wendy House in the garden. Edward (senior) was the first generation of The Hollies Farm Shop Family, moving into The Hollies house back in 1959 with his wife Rose. Beginning with a vegetable stand on the side of the road with an honesty box, it wasn't long before they began selling more produce from their home to meet demand…
1982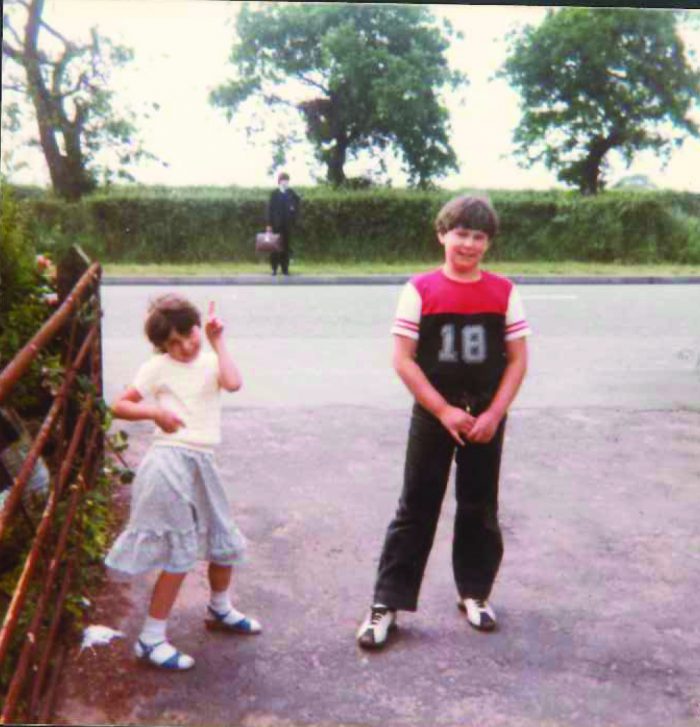 This photograph of Phil, Ed and Sue was taken in 1982. Phil (with his briefcase) is over the road waiting to cross over having just been dropped off the Tarporley High School bus. As school boys, Phil and Ed would return from school to help Dad Richard to sow lettuce, pick beans, bunch carrots, pick potatoes, hoe cabbages and load the van ready for market days. School holidays saw more farming activity for the brothers.
1990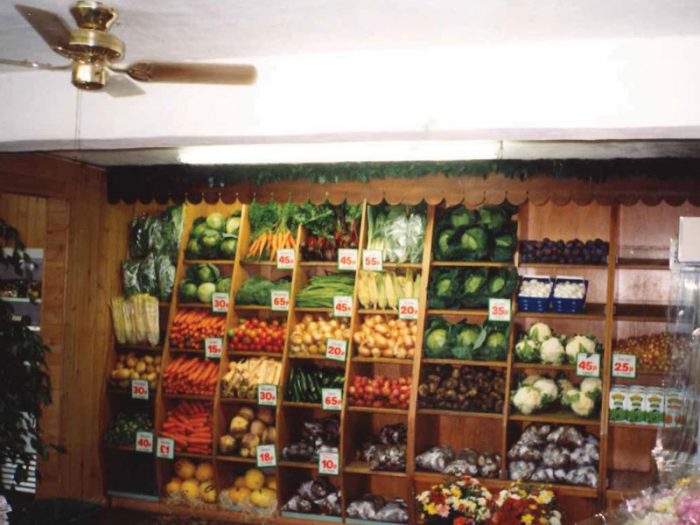 This photo was taken around 1990 (the garlands at the top suggest it was near Christmas time). The family had opened this very first section in October 1988, when they held their first caravan rally. They were excited about the prospect of developing their farm shop and had just bought these shelves second hand from a friend who'd had a refit. This area has been many things since the 1990's as the business evolved – farm shop, card room, butchery, hamper station, flower room and more!
1991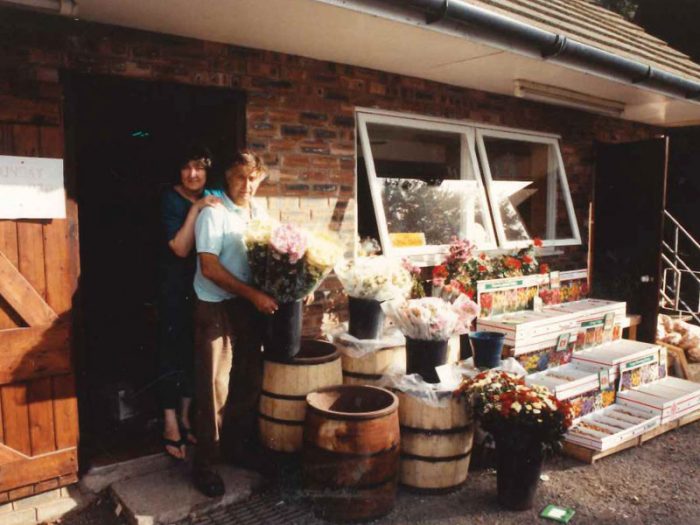 This photo of Hilary & Richard was taken late in the Summer of 1991. By now Richard had converted the cattle shed into the first footings of the farm shop and they had expanded their product offering further. Here you can see Dutch tulip bulbs and chrysanthemum bouquets being set up outside ready for customers.
1991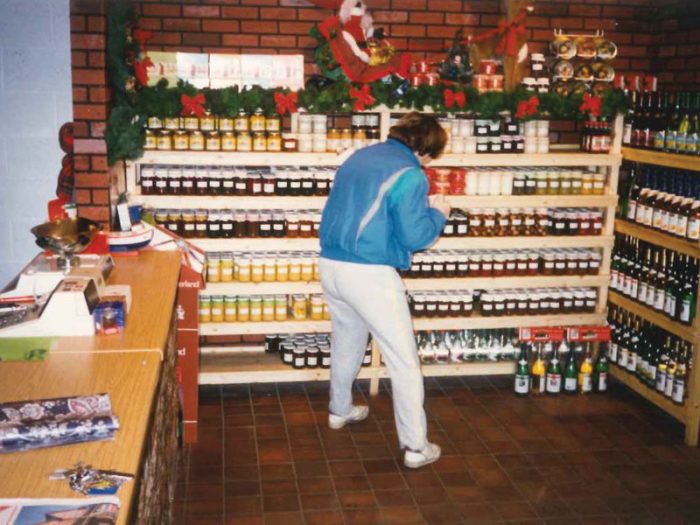 This photo was taken in 1991 on a Sunday in the run up to Christmas (you can see the Christmas decorations up above the shelving!!) It shows Sandra, a P.E. teacher from Macclesfield who Phil remembers used to come to The Hollies every Sunday. Here she is at our Mrs Darlington's display – it was one of our biggest displays at the time and still remains as one of our best-selling local products today! The counter you see here is as it is today at Little Budworth and would be where the middle two tills sit now.
1993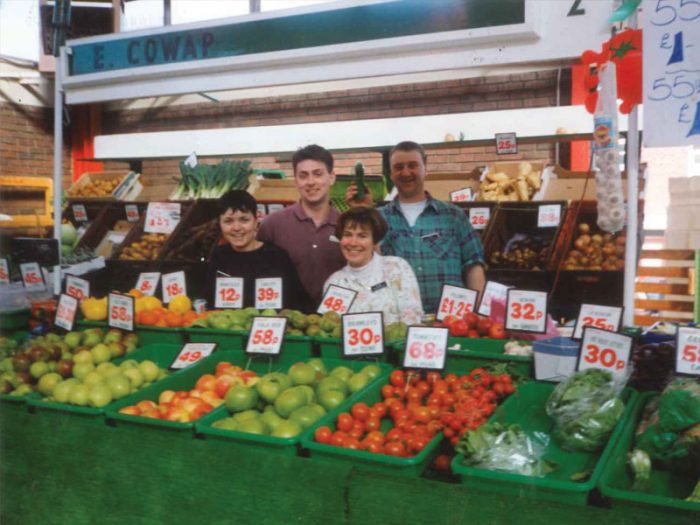 This photograph was taken at Runcorn Market in the Spring/Summer of 1993. As demand grew, the family took on staff to help, and here alongside Ed is Steve, Anita and Eileen. Ed remembers that Anita started with them when she was 16 and when she went off to university in Liverpool she would catch the train to Runcorn to help at the market on the weekends. The Cowap family would take it in turns to run the market stall alongside the growing demand for the Farm Shop at Little Budworth.
For more throwbacks – click here for our previous 'A trip down memory lane' blog.
Categorised in Butchery, Coffee Shops, Delicatessen, Farm Shops, Forest Lodges, General